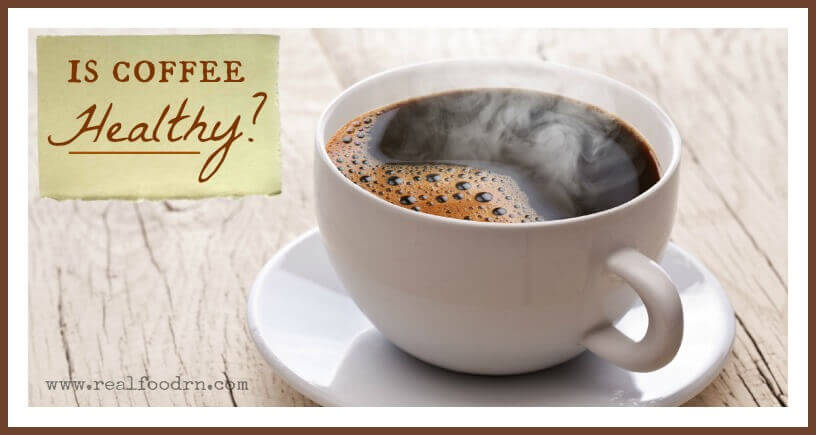 We often joke in our house that if coffee is wrong, we don't want to be right 😉 But really, the questions begs to be asked: is coffee healthy? We love coming up with healthier ways to enjoy some classic coffee favorites like our bulletproof coffee and our frozen mocha, and we love finding fun ways to use coffee grounds! This post explains why we approach coffee cautiously and are careful to choose which kind we drink.
"Toxin Tips: Are You Really Drinking Healthy Coffee?
You may be feeling a bit smug as you drink your afternoon pick-me-up since you know you are ingesting yummy antioxidants that have been recently touted as "healthy." But wait. There is more to the coffee debate that needs to be considered before you can feel confident that the hot beverage you slurp is, in fact, healthy. Is coffee healthy?
The first issue to consider when determining if your favorite coffee is truly healthy is the kind and amount of pesticides used in the growing process.
Coffee beans are a food crop with one of the highest levels of pesticides used, and although the U.S. has banned many pesticides that were formally used, many countries do not have these bans in place. Many developing countries produce coffee beans that are then purchased by big U.S. coffee companies, such as Starbucks. Since the U.S. can't control the pesticides used in other countries, ones that have been banned here, such as Chlorpyrifos, could be contaminating your coffee. Chlorpyrifos is a contact poison known to cause human deaths and is extremely toxic to wildlife. Overall, increased exposure to pesticides is associated with birth defects, nerve damage and cancer.
Ochratoxin A is produced by two fungi and can be found in foodstuffs, including coffee.
It's difficult to determine how much of these fungi might be attached to the beans that made your favorite brew since coffee bean companies determine for themselves how long their beans sit around before being roasted. This means there are variable levels of the toxic mold found on beans, and since the U.S. does not currently censor the amount of ochratoxin A permitted in foodstuffs, it is almost impossible to know how much of it you may be consuming. Scientific evidence proves it is a neurotoxic, immunosuppressive, genotoxic, and carcinogenic. Ochratoxin A damages kidneys in mammals, acutely if ingested long-term. Whereas the European Union has established limitations on the amount of Ochratoxin A that is permitted in food sold there, the U.S. has not. Many are concerned that contaminated beans are being shipped to the U.S. where they end up making up our cup of Joe. While many high-end retailers claim they are unconcerned about the amount of Ochratoxin A in their coffee beans due to the process they use, we must take them at their word."