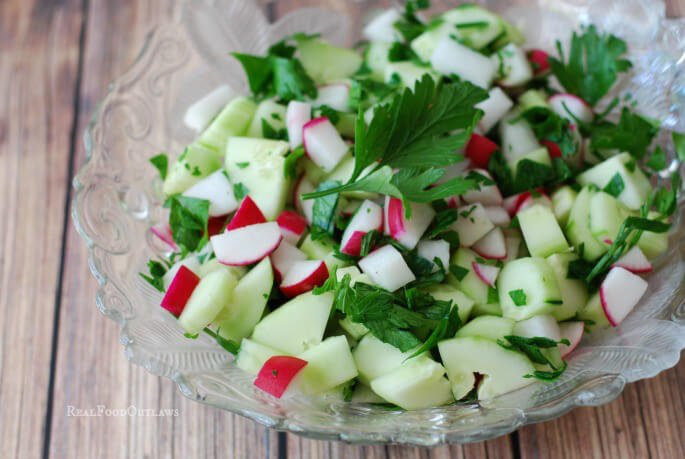 I have a confession: it's harder for me to get excited about salads in the winter. There's something about the frigid cold that makes a cool, crisp salad seem less appealing. Thankfully, there's fantastic rustic and warmer salad options like apple and walnut salad and pizza salad to make sure I'm getting enough of these kinds of greens during the colder months. But when the spring and summer come along … bring on all the salad!!! I just can't get enough of every type of salad: spring salad, chicken salad, potato salad, orange and pomegranate salad, and of course, all the fresh herb dressings. This radish and cucumber salad is on my must-make list for this summer. It can be difficult to come up with creative ways to use radishes besides thinly sliced and placed neatly on top of a mixed salad, but this recipe highlights the actual flavor of the radishes and blends their kick in smoothly with the cool cucumbers.
"I DON'T USUALLY LIKE RADISHES…BUT I LOVE THIS RADISH AND CUCUMBER SALAD!
We've been getting quite a few radishes in our CSA produce boxes lately. If you are a radish fan, than this is not an issue. If you are not (like me), it can be difficult to know what to do with them. My mom introduced me to this amazing radish and cucumber salad, so I decided that if some of my readers had misgivings about radishes, I should share it!
Not only is this salad delicious, it is also chock full of nutrients that help detoxify and nourish the body.
Radishes are a very nutrient dense food, rich in vitamins. They are especially very good for the liver, kidneys, gallbladder and stomach. They are an excellent detoxifier. Radishes are also considered an anti-congestive, which means that they help decrease respiratory irritation. Their list of health benefits can fill an entire post! It makes me want to eat more of them.
Cucumbers help add water to the body which can keep you hydrated. This can help the body flush out toxins. They boast B vitamins, A, and C, and skin-friendly minerals like magnesium, potassium, and silicon. Cucumbers can also aid in digestion and may help relieve acid indigestion and reflux.
Fresh flat-leaf parsley is what makes this salad really stand out. Parsley is a fantastic detoxifier and full of vitamins K, C, and A. It is also an excellent source of folate. I like to add it to juices and smoothies whenever possible for an added nutritional boost."