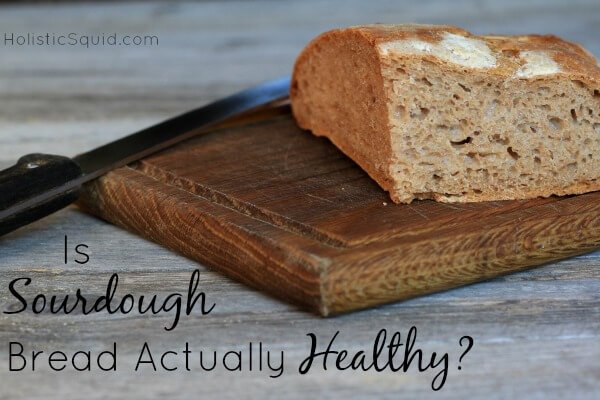 One of the biggest changes for our family during our transition to real food was limiting our number of sandwiches. Sandwiches were very convenient for our lunches and my husband was not the biggest fan of parting from them. While we eventually found fantastic substitutes (and felt much better after riding our guts of processed "whole grains"), we still occasionally miss a good french bread or hearty sandwich. One of our more recent discovers in our real food lifestyle is sourdough bread. We had heard good things about it, but is sourdough healthy? This post explains more.
"In the last few years, bread has gotten a bit of bad reputation. The popularity of gluten-free and paleo diets are supported by legions of followers, experts, and best selling books like Wheat Belly and Grain Brain.
Not all bread is created equal, however, and some believe that traditional preparation using a sourdough starter can negate the detrimental effects of wheat and other grains.
What is sourdough?
Sourdough bread is made by fermentation. Flour and water are mixed to make a starter, or levain, colonizing healthy bacteria and yeast. These microorganisms feed on the flour, breaking down the grain. Carbon dioxide results from the interaction of the yeast and bacteria, and causes the dough to rise.
For the benefits of sourdough, the dough must undergo a slow fermentation process with no commercial yeast added. The amount of time necessary changes depending on type of flour used, temperature, and hydration (amount of water), but a general rule of thumb would be 12 hours at room temperature.
Why true sourdough bread is better
True sourdough bread ferments the flour, with a number of effects that render bread healthier and easier to digest. Besides being better for you, it tastes amazing too.
Sourdough reduces phytates
Phytates are found in whole grains (as well as other whole seeds and nuts) and are the bond between minerals and phytic acid. When bound to phytic acid, we cannot absorb the minerals in food, even though they are included in the nutritional profile of a whole grain. The phytate bond must be broken in order for us to digest them.
When dough undergoes sourdough fermentation, the enzyme phytase breaks those bonds. If the acidity of the sourdough dips to pH 5.5, 70% of the phytate is reduced, availing minerals for assimilation, including phosphorus in the phytic acid. Studies show that reducing or increasing phytates has a direct impact on the assimilated amount of magnesium, iron, and zinc.
Helps the body digest protein
Not only do phytates bind with minerals, they also inhibit the enzyme trypsin, a digestive enzyme that breaks down protein. When the phytate bonds are broken, then the body can digest protein properly.
When proteins are not properly broken down into peptides and then amino acids, they can irritate the gut wall, leading to inflammation and 'leaky gut syndrome.' One of the main proteins in wheat flour is gluten."