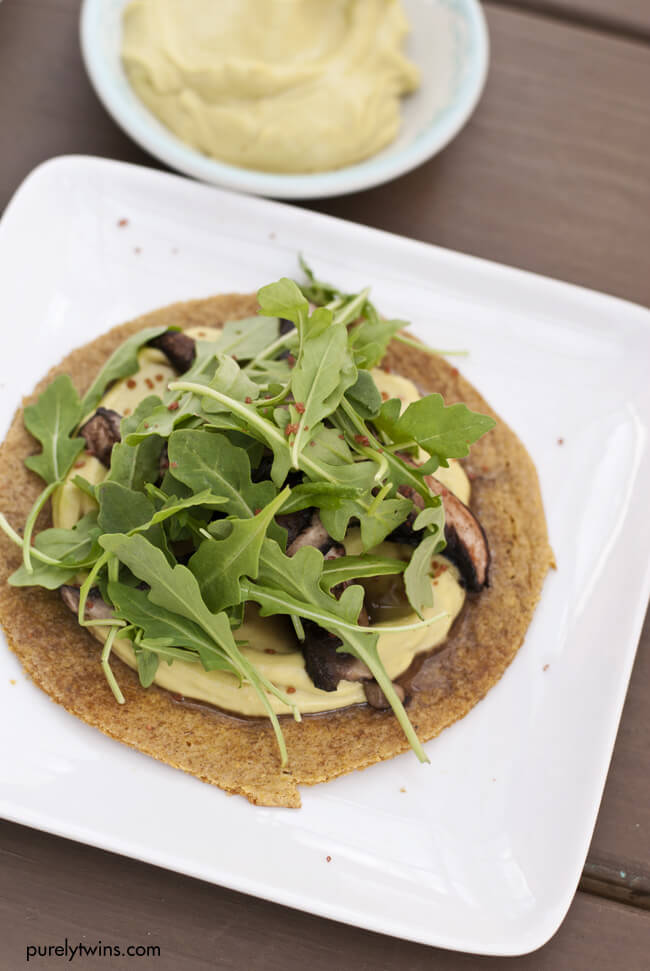 This delicious mushroom arugula tostada combines flavors beautifully. Made with a plantain tostada base, it is grain free! Add an avocado sauce, meaty mushrooms, and spicy arugula to complete the dish! You can also add various ingredients as you fancy, like beef or sour cream!
"Do you remember our remake of our egg-free plantain flatbread socca recipe? Since the original one can be little difficult to get just right, this updated version works out nicely. Great for those who can't eat eggs but still want to enjoy something bread-like that is grain-free.
There used to be a tostada salad that we would order from the Cheesecake Factory many years ago. Loved that tostada salad. It was piled high of shredded greens, black beans, chips, chicken, and an incredible dressing. Dreaming of it right now. We wanted to find a way to make something similar to it. Of course it's not an exact replicate of it, but just the general idea of it.
We know this Mexican dish "tostada" means "toasted salad."
We adore the soft crisp from the tortilla covered in veggies and yummy sauce. Since we don't really eat much black beans anymore, or any bean that much for stomach issues, we decided to leave them out. But if you like them and your digestion likes them please feel free to add them to this dish.
So our tostada is definitely not the traditional fried corn tortilla but promise it's still yummy!
First up you need a delicious sauce.
We made our 3 ingredient avocado cream that we created several years ago. We forgot how easy and tasty that cream is!
Since we cut our plantain flatbread socca into circles we had leftover pieces that we cut into strips to make homemade chips. We just put them back in oven to broil for a few minutes to get a little crispy."