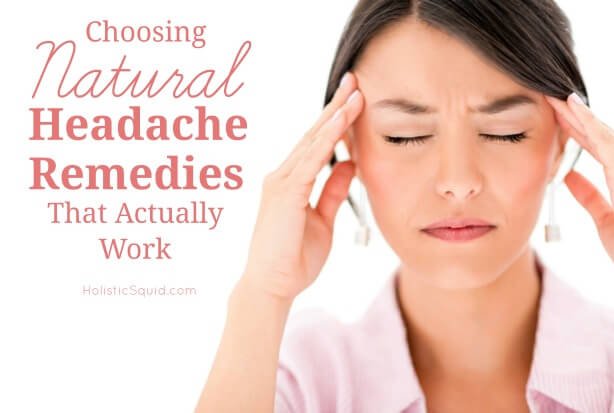 There's a lot of ideas out there about how to treat a headache. People's opinions range from popping a Tylenol a few times a day, to Epsom salt baths, to acupressure. But how do you know which one is right for you? We are big fans of natural remedies, and are able to treat most minor maladies with our natural remedy kit, so we lean more toward the holistic care of headaches. Here's a great list of natural headache remedies that work.
What's your favorite natural remedy for headaches?
"My college roommate used to get terrible migraines, so she always had a bottle of Excedrin sitting on her dresser. That's about as much as I knew about headaches and headache treatments since I've never been prone to them.
But when I was pregnant with my first child I started getting headaches, and I didn't know how to deal with them without using over the counter pills. Most people will pop a painkiller and hope for the best. But being pregnant, I wanted to find a more natural solution.
With some research, I learned that pain meds are not always necessary, and they aren't always very helpful. A headache is usually a symptom of something else, and fixing that underlying issue is the best way to get rid of–and even prevent–headaches from happening.
The right natural headache remedy for YOU
If they're chronic, the best way to find out why your headaches are happening is to keep a headache diary. When a headache hits, jot down everything you did and ate in the previous twelve hours. You may begin to notice a pattern. In my case, my headaches were being caused by my fluctuating hormones and dehydration (since pregnancy requires a lot of extra fluid intake).
I made sure I was getting enough water and electrolytes from coconut water and fruits and vegetables. Relaxation and exercise also helped get me through the first trimester, when the hormonal headaches subsided.
Once you have an idea of what might be causing your headaches, you'll be able to find a natural headache remedy that works.
Food allergies
If you find that your chronic headaches or migraines occur first thing in the morning, shortly after eating, or within two days of eating a certain food, you may have a food allergy.
Many headache sufferers find that eliminating allergenic foods reduces the frequency of headaches. First eliminate all of the foods that are most likely to cause headaches for two weeks. Then, add the those foods back in one at a time, so you can identify which ones are causing your headaches.
When you find one or more foods that give you headaches, it's best to avoid them altogether. However, some people find that they can eat small amounts of allergenic foods without trouble."