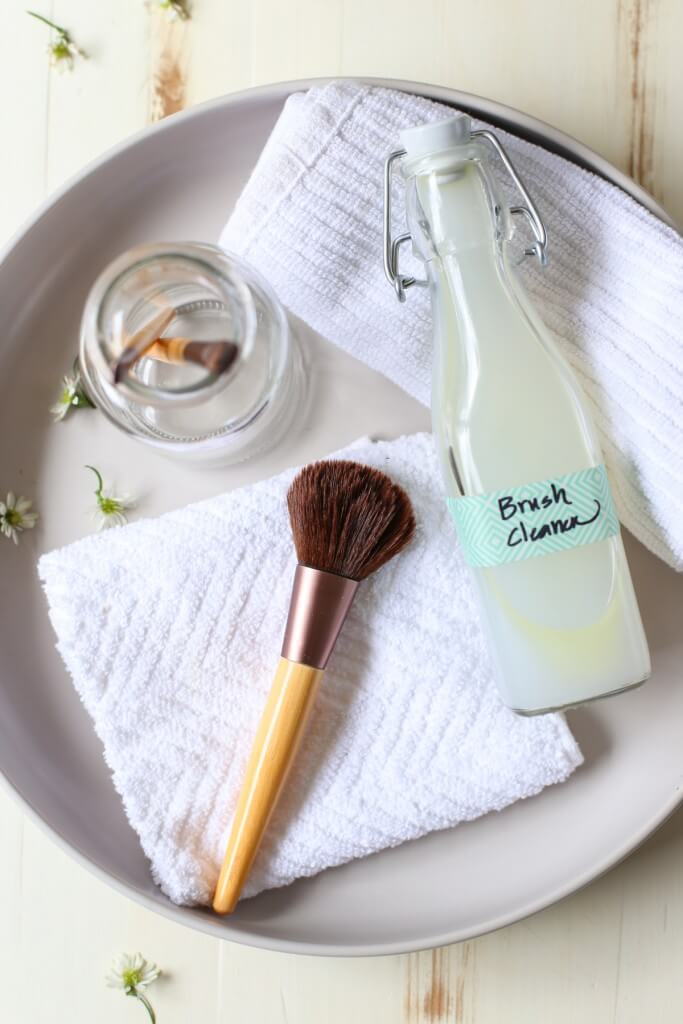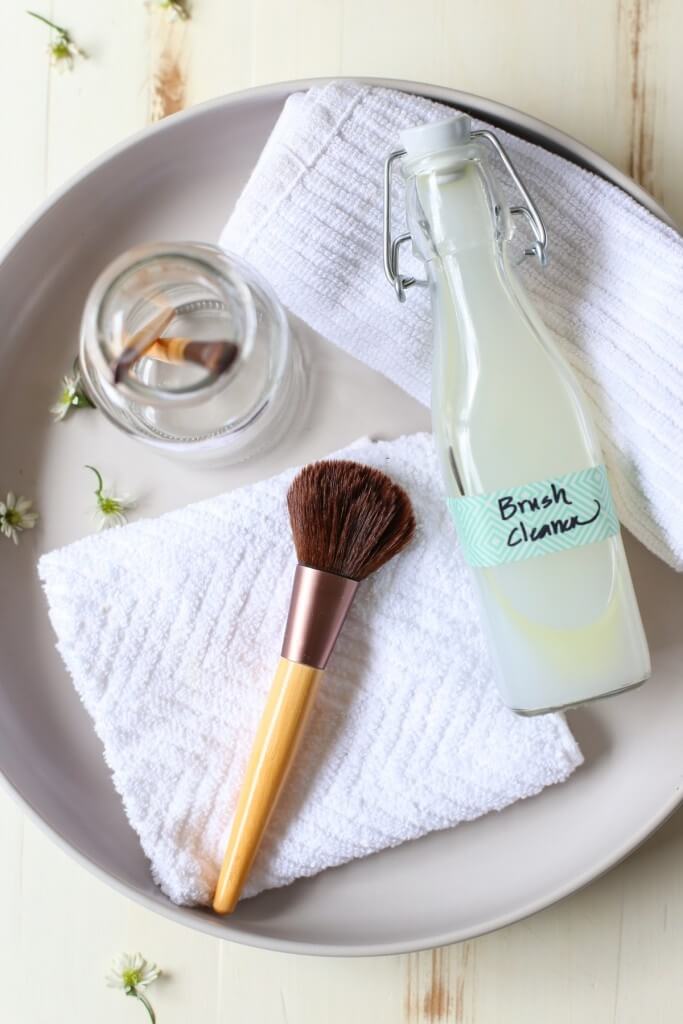 Growing up, I had severe cystic acne. I tried every medically prescribed option, and never really had a lasting effect. I also plowed through countless bottles of foundation trying to find a brand and shade that covered my acne, but didn't overwhelm my young face. Now, after discovering that my acne problems were mainly due to my diet, my skin stays much clearer. But I still like to wear subtle makeup from time to time to feel more put together (moms need that, am I right?!). I use homemade foundation powder, blush, and mascara. In order to keep my make up brushes clean, and thus my complexion clean, I use a homemade natural makeup brush cleaner.
"Confession: I've been making a big beauty mistake and didn't even know it.
Last month, while visiting one of my favorite natural shops (essential oils, herbs, organic makeup–it's a "crunchy mama" utopia) I overheard the herbalist on duty talking to a fellow customer about breakouts–the little unwanted guests that randomly pop-up on the face. The conversation instantly caught my attention. I quickly and very politely jumped in, "I'm not sure why my skin still breaks out at the most random moments. My diet is super clean, I drink a ton of water and make my own homemade products. Any tips?" The herbalist looked at me and asked a simple, yet skin-changing question, "Do you clean your makeup brushes?"
Lightbulb moment!
I'm embarrassed to admit that I'd never thought about cleaning my makeup brushes. Big mistake. As it turns out, cleaning makeup brushes is a pretty important task that can prevent bacteria from spreading on the skin.
Bacteria = breakouts.
Breakouts = makeup brush contamination.
Makeup brush contamination = more breakouts.
It's a nasty cycle.
My search for the ultimate brush cleaner began.
There are a number of store-bought brush cleaner options, and there are also a number of DIY tutorials on Pinterest. Most of the ingredients used in both the store-bought and "homemade" versions are far from natural, in my opinion. I decided to create my own homemade brush cleaner. Take that Pinterest– PS: I still love you! With a few basic ingredients, which I already had on hand for DIY beauty products, I was able to easily whip up a natural solution.
The moment of truth came as I dipped my foundation powder brush into the solution. You guys, the resulting liquid was disgusting–oil, dirt, months worth of makeup! To say that I'm now a brush cleaning advocate is an understatement. Trust me, just try it once–dip your makeup brush in a few simple ingredients–your beauty routine will forever be changed.
From what I've read, most makeup professionals recommend cleaning brushes daily, particularly the ones used for foundation and blush. Daily feels a bit overwhelming and far from "simple," so I'm practicing a twice a week system. Baby steps! Some cleaning at this point is much better than no cleaning at all. I'm now going on four weeks of this routine. My makeup brushes are incredibly soft and my skin feels clean. Bottom line: Do it! Clean your brushes. ASAP."