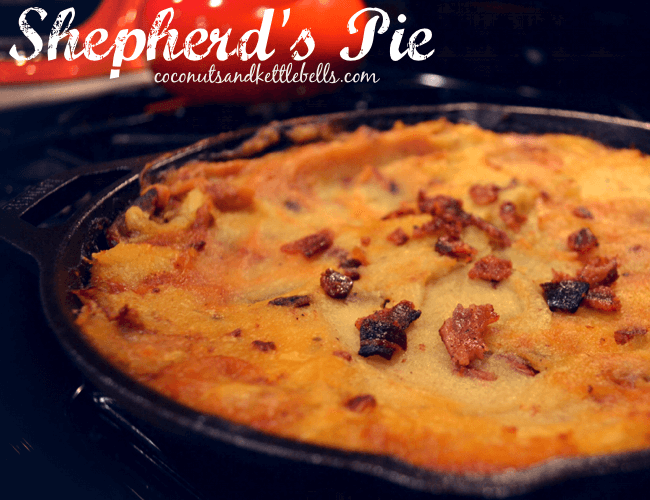 Shepherd's Pie is a classic savory dish made with a plethora of yummy ingredients. In this paleo Shepherd's Pie recipe, nutrient-packed sweet potatoes, grass fed-beef, and bacon and the stars of the show, and are accompanied by numerous fresh veggies, healthy bone broth, and spices. Do you like Shepherd's Pie? Give this paleo version a try!
"Shepherd's Pie and I… we have no history. Growing up vegetarian and remaining so throughout college left me uncultured in the gloriousness of flavors that accompany traditional multi-meat dishes like the pie of shepherds. In fact, I had no clue what it was until spotting a photo of a Shepherd's Pie on Instagram hashtagged "Paleo" about a year ago. Bacon, beef, and potatoes… and more bacon?
It was love at first site.
Thanks to social media, I've successfully found my "last meal before you die" dish. It also makes a great "make your husband (or wife) happy" dish when, ahem… you'd like a little favor in your own direction.
Please note – this is my personal whole foods approach to making a savory Shepherd's Pie dish. This is not, by any means, a recipe that's been passed down for centuries and has special secret ingredients. It's just real, good, food.
Since this dish is cooked on the stove top and finished in the oven, you'll need to use an oven-safe cooking pan like a cast iron skillet. For this recipe, I use my 10-inch cast iron skillet which is the appropriate size for the ingredients below. If you're using a smaller or larger pan, simply adjust the vegetables and beef accordingly."