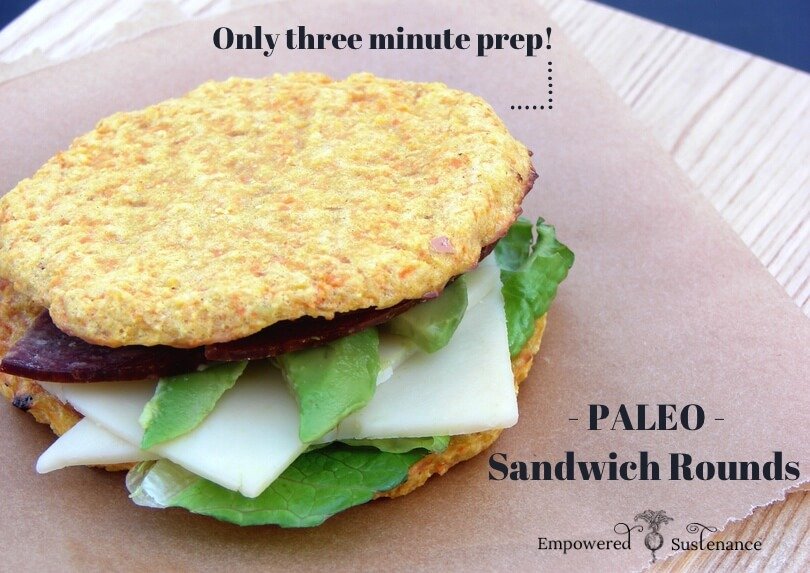 Perhaps one of the greatest thing people living a grain-free lifestyle miss is sandwiches. Sandwiches are convenient and easy to make and they offer a variety of possibilities when it comes to what's in between the bread. These paleo sandwich rounds are the solution. Made with coconut flour, carrots, milk, and seasonings, these sandwich rounds can be whipped up in a matter of minutes and make a fantastic substitute. So the next time you are wanting a towering sandwich or burger, try this recipe!
"Healthy sandwiches with Paleo Sandwich Rounds
Ah, the paleo sandwich conundrum. A grain free diet boasts so many benefits, but one big drawback is the lack of an easy bread substitute for sandwiches. Sometimes you just really want the convenience and comfort of a sandwich, right? Here's the solution: Paleo Sandwich Rounds!
For this super quick recipe, you basically throw everything into the food processor for a minute, then slap it down on a baking sheet and bake. Easy, right? The coconut flour helps bind the sandwich rounds while the carrots add a slight sweet flavor and acts like a flour to provide structure. Feel free to add your choice of herbs or seasoning salt.
Fillings for Paleo Sandwich Rounds
These paleo sandwich rounds work for any number of your favorite sandwich fillings. In the picture, I've used cheese, avocado, grassfed bologna, and lettuce. Obviously, cheese is not Paleo but you get the idea… use whatever you like for the filling 
 Here are some sandwich fillings that my family members have enjoyed with these sandwich rounds:
Egg salad
Bacon, lettuce and tomato
Nut butter and jam (omit any seasoning salt/herbs when making the sandwich rounds)
Hamburgers
Goat cheese, caramelized onions and chicken
Open-face tuna melts"