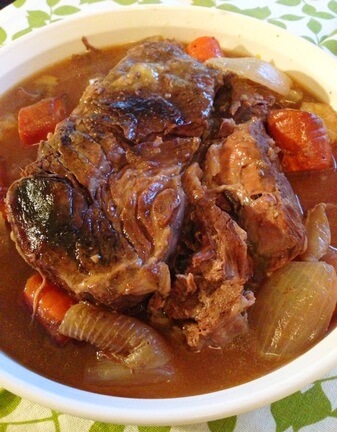 That's right folks, it's slow cooker time!!! Woop Woop!
Sauerbraten is a German "sour roast" that is marinated in a sauce of vinegar, lemons, carrots, onions and spices for 3 days (or up to 5) and then cooked slowly until it is tender. It is easy to prepare the marinade and you can just throw this in the crock pot to cook, so it is not as labor intensive as it may sound. The end result is like a pot roast but with much more flavor. It is great when served with red cabbage, another traditional German dish that also has a sour flavor profile. And I really love red cabbage and sauerbraten, so if you are making this please feel free to invite me over 🙂
If you don't want to use a slow cooker (I wont judge you), you can leave out step 6 and put everything in a dutch oven and cook at 325F for about 2 1/2 hours or until the beef is tender, then pick back up at step 7. I like to give you options my paleo peoples!
[Photo Source: PaleoCupboard.com]