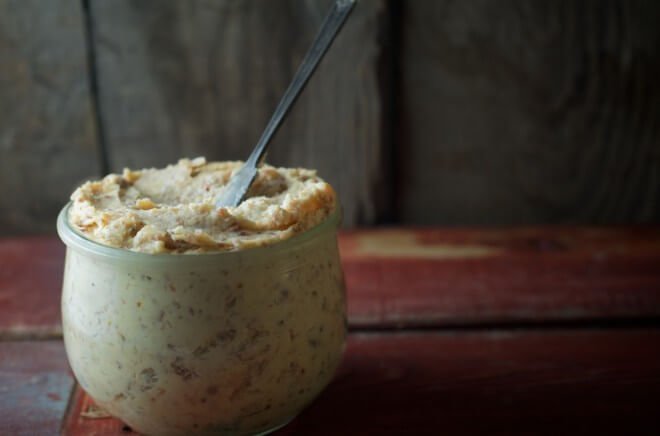 A good dip is a fantastic staple for a classy dinner party you're hosting or a Tuesday afternoon when your kids are hangry (you know, hungry and angry) and you're desperate to shove something in their mouths to calm the beast. We love serving guacamole with homemade tortilla chips and yogurt cream cheese dip with fresh fruit.
If you're looking to mix it up in the dip department, try making this delicious potted cheddar with bacon and shallots. Good sharp cheddar cheese is combined with heavy cream, sherry, bacon, and shallots to make the most mouth-watering dip. You can serve this with gluten free crackers, veggie chips, vegetables, or just a spoon. 😉
"I have a thing for cheese. Real cheese. Sharp, salty, creamy. I have a thing for cheddar in particular. Cheddar so sharp it smacks you in the mouth.
And it's that love that keeps me walking warily down the dairy case, even at my local health food store, where I eye deplorable hunks of milky, rubbery, dull cheese. Me? I want something that sings.
When I find it, whether at the farmers market or at cheese shops, I pay a pretty penny for it. I judiciously parse it out, a sliver at a time. I pair it with all sorts of lovely things: walnuts, honey, marmalade, mostarda.
A few months ago, I padded my way down the dairy case once more, scoffing again at rubbery rectangles of plastic-bound cheeses, and found something different. There, wrapped in papery sealed parchment marked Kingdom Cheese, sat a wedge of handcrafted, organic sharp cheddar.
Now, I'd been fooled before by the promise of "sharp" and authentic cheeses. But, I took the time to read the package: not only was it aged 10 months like a good cheddar should be, but the cows are raised on grass with supplemental non-GMO, organic feed. That's my kind of cheese. And it was reasonably priced! So I plopped it into my basket, and hoped it didn't disappoint.
And it didn't. I paired it with fresh apples, homemade true sour pickles (recipe in my cookbook), no-knead sourdough bread and some pasture-raised prosciutto I bought online. It made for a lovely picnic.
Visiting the Farmers and Cheesemakers at Kingdom Cheese
Shortly after finding (and falling in love with) my first wedge of Kingdom Cheese, I happened across a contest hosted by Leah at Mamavation. I could win a trip to visit their farms, their cows on pasture, and check out their cheesemaking operation. So, having fallen for their cheese already, I threw my name into the ring. And you know what? I won!"