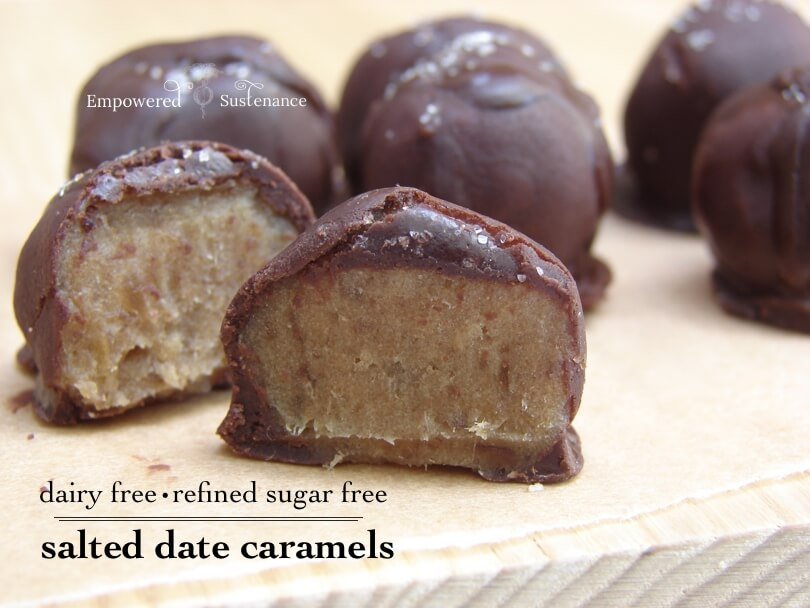 It's ok if you're drooling while looking at the picture… I am too. These lovely salted date caramels are pleasing to the eyes and the tastebuds. Made with healthy and nutrient ingredients like dates, coconut oil, coconut flour, cocoa powder, honey, and so on, these date caramels are also good for you! So go ahead, read the rest of the post and get to making!
"Decadent Date Caramels
Did you know that dates make a delicious and healthy caramel filling? When blended with a bit of coconut oil, mejool dates create a thick, rich, dairy free and slightly chewy "date caramel." Salt intensifies the natural caramel flavor. And a chocolate coating envelops the whole thing. Divine!
I surprised myself with the fact that I am apparently loosing my mind at the ripe old age of twenty one.This recipe was meant to be in my book Quit PMS but, somewhere between the second and third draft, it slipped out of the manuscript. Unrefined salt is good for the brain, so evidently I just need to eat more salted date caramels before I do another book. Sounds good to me!
Date caramels with hormone-balancing ingredients
These were supposed to have a place in Quit PMS for a reason: they contain a myriad of the hormone-balancing ingredients that I discuss in the book. This includes:
Unrefined Salt – The science is in: salt was wrongly demonized for decades. As a matter of fact, a reduced sodium diet is correlated to higher mortality rates! Other studies show that salt improves insulin sensitivity and also helps reduce cortisol (a stress hormone) – both very health protective factors. Salt is also a natural anti-histamine. (Read more about why salt is good for you.)"