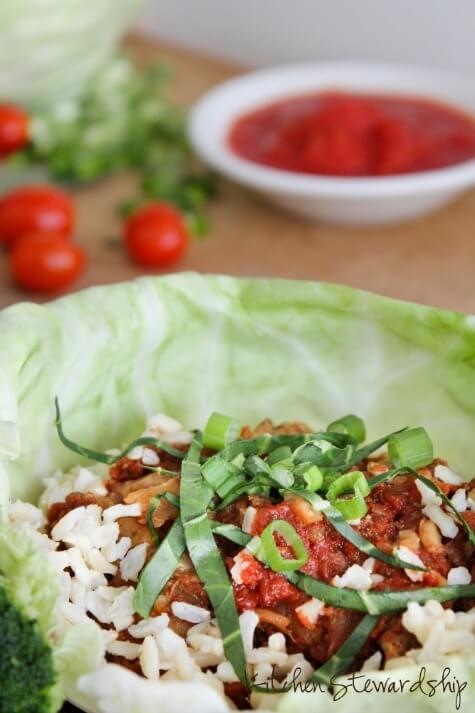 Stuffed cabbage rolls make a delicious and beautiful dinner. But if you're in the market to skip all those steps and make a smilier weeknight meal, this is the recipe for you. These delicious stuffed cabbage un-rolls are made in the slow cooker… yipee!… and are easy to assemble because there is really no assembly required. Made with flavorful ingredients like grass-fed meat, brown rice, cabbage, tomatoes, onions, garlic, and a slew of spices, these stuffed cabbage un-rolls will be a crowd pleaser!
"I remember back when I cooked a decent amount from scratch but didn't know "real food" from "boxed and canned food," I used to think of stuffed pasta shells as a "fancy meal" because of all the steps – boiling the noodles, making the sauce, mixing up the filling and taking the time to fill each shell. Lasagna was up there on the "high maintenance" list as well, with all those layers.
In our family's current real food landscape (making nearly everything from scratch, from homemade mayo and crackers to yogurt and dressings) and with the number of mouths we  have to fill (five), it takes me as long to chop vegetables for ANY given meal as it used to take to assemble two whole pans of stuffed shells – so my perspective on what makes a meal "a lot of work" has changed significantly.
But that doesn't mean I'm looking for opportunities to spend even a second longer than I need to in the kitchen. On the contrary, I relish taking shortcuts as much as possible, and those meals that have four stages and three pots?
Forget it. I don't want to mess with all that!
That's why I am particularly excited to share this recipe with you today, becauseI've saved time on at least four different steps. Check THAT off the to-do list, baby!
A year ago I was excited to try my hand at "stuffed cabbage rolls" for St. Patrick's Day. They're kind of a traditional thing that I knew my husband, kids and in-laws would all enjoy. Ground beef and rice wrapped in cabbage leaves and smothered in tomato sauce – what's not to like? I set to work scanning the Internet for recipes to pull the best parts of many together into my own.
After steaming a cabbage, making a homemade sauce, and mixing up raw ground beef, cooked rice and seasonings, I still had to form each roll individually (while learning that 10 minutes probably wasn't long enough to steam a whole head of cabbage) and arrange them in a casserole dish. One full hour in the oven wasn't quite long enough to move the cabbage out of the "crunchy" category, so although the meal ended up rather tasty, I was less than thrilled with the overall experience. (But don't worry, I fixed it right up!)"