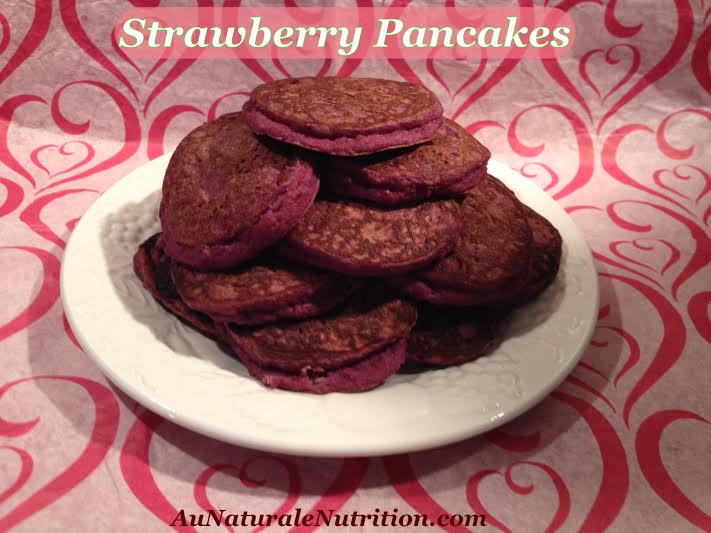 One of the most important and potent vitamins we all need a dose of every single day is vitamin L. What is vitamin L? It's LOVE! A special thing about vitamin L is that you can never have enough, but even a little makes a huge difference in someone's life. In addition to that, the more we give it away, the more we get back in return and the healthier we feel. It's as easy to share as a simple smile. These strawberry pancakes supply a nice helping of vitamin L. Happy Valentines Day!
Ingredients
4 eggs
1 ¼ cup unsweetened almond or coconut milk
2 tablespoons vanilla extract
one 1 ounce package of freeze dried strawberries
1/2 cup coconut flour
1 teaspoon baking soda
1/4 teaspoon sea salt
(optional) 1/2 cup Enjoy Life chocolate chips
coconut oil or butter for frying
Directions
Preheat griddle over medium-low heat.
While the bag of strawberries is unopened, crush them into a powder.
In a small bowl beat eggs until frothy. Mix in milk and vanilla.
In a medium-sized bowl combine coconut flour, strawberries, baking soda, and sea salt and whisk together.
Stir wet mixture into dry until coconut flour is incorporated and clumps are gone. Allow 2 min for batter to thicken. (Add optional chocolate chips.)
Grease griddle with butter or coconut oil. Ladle 2-3 tablespoons of batter onto griddle for each pancake. Spread out slightly with the back of a spoon. The pancakes should be 2-3 inches in diameter and fairly thick.
Cook for a few minutes, until the tops dry out slightly and the bottoms start to brown. Flip and cook an additional 2-3 minutes. Makes approx 15-20 small pancakes.
Serve with butter, honey, syrup, or fruit.