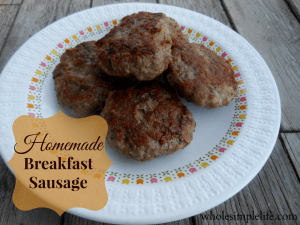 Breakfast sausage is a favorite dish to kick off the morning; however, most processed and/or frozen breakfast sausage patties are full of nasty preservatives and are less than "the real deal". But that doesn't mean you have to kiss your eggs' partner goodbye. By making your own breakfast sausage, you can control the quality of the ingredients and obtain a more flavorful pattie. This homemade breakfast sausage recipe from Hannah is simple, quick, healthful, and looks delicious!
"This homemade breakfast sausage recipe is delicious and not only is it more flavorful that store bought pre-seasoned sausage but it's healthier too. You know exactly what you're putting into it. No preservatives, to artificial flavorings, just good old spices. I just add the spices to some plain ground pork, shape them into patties and fry them up in a pan, no extra fat is needed. It's especially yummy to cook some eggs in the same pan with all the seasonings and fat, it flavors the eggs so nicely. It makes a great fancy breakfast or a quick breakfast for dinner option as well.
I also use this seasoning mixture when I'm making meatballs that call for half ground beef and half pork sausage. Anytime you need sausage just buy plain ground meat and add this homemade sausage seasoning mixture. It works with any ground meat. I've used it with elk and deer and had excellent results as well. You could even add it to ground chicken or turkey.
It's pretty simple. I love making my own seasoning mixtures, like this homemade ranch seasoning mix, you really can save money and control the quality and purity of ingredients."