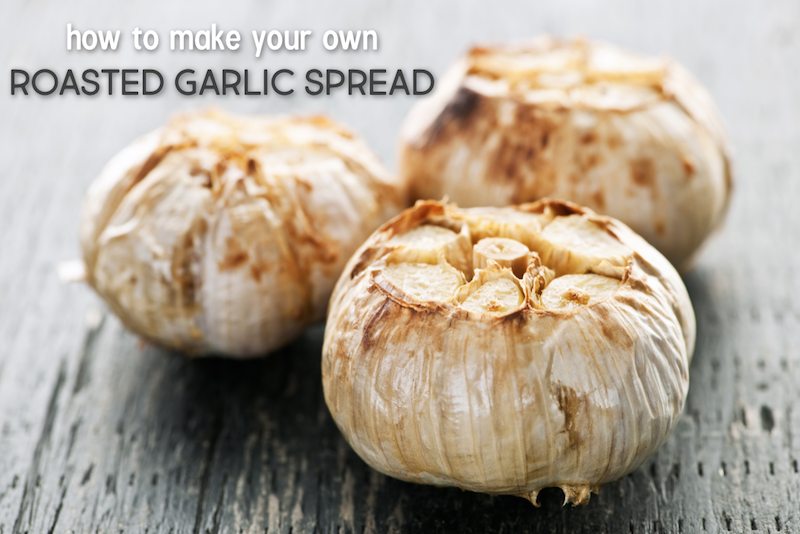 Oh, garlic. How we love thee. We love preserving garlic so we can use it whenever we like. And while we enjoy making our own garlic powder and using raw garlic to flavor a myriad of real food recipes, our favorite way to play with garlic is in this roasted garlic spread. And if you've ever smelled garlic roasting in the oven, then you're probably excited for this roasted garlic recipe. Many people have never tried to roast garlic because it seems intimidating and they quit before they start. But really, the roasting process is so simple and well worth it. After you've done it once, you're confidence will grow and you'll want to make it over and over again. Additionally, this roasted garlic spread is a great way to introduce garlic into your child's diet without overwhelming them with the strong taste of raw garlic. Roasted garlic spread can be used as an ingredient in hot or cold recipes, makes the perfect condiment, and is a great replacement for butter in eggs, on toast, and on cooked vegetables.
The best part? It requires little preparation and few ingredients.
Benefits of Garlic
Although roasted garlic is not as beneficial as raw garlic, it still boasts health benefits.
Garlic has been shown to boost the immune system, fighting disease like cancer, diabetes, high blood pressure, and more. It may also aid in healthy sleep and hair growth.
If the health benefits aren't enough to convince you to incorporate more garlic into your diet, then let's talk about the unique (and addicting) taste of roasted garlic spread.
What Does Roasted Garlic Taste Like?
Raw garlic tastes great, but roasted garlic is another whole level of culinary delight. When roasted, the garlic mellows out and tastes sweeter. It's smooth and slightly nutty. Roasted garlic is spreadable and fragrant, making it the perfect companion to nearly any dish. We bet you won't run out of ways to eat it!
How to Use Roasted Garlic Spread
Off a spoon. The end.
Just kidding. Although it is delicious that way, and we certainly wouldn't judge you for indulging 😉
Roasted garlic spread compliments nearly any food:
Roasted Garlic Recipe
While the garlic needs to roast for a while, there is hardly any preparation required for this recipe!
Ingredients
Instructions
Preheat oven to 375°F.
Spread out a large piece of tin foil.
Slice off the top of each garlic head. Be sure to leave the bulbs intact.
Place each garlic bulb, cut side up, on the tin foil.
Drizzle the olive oil on each bulb and sprinkle with salt.
Tightly wrap the bulbs in the tin foil.
Bake in the oven for about 45 minutes or until the garlic is soft and a mellow brown color.
Allow to cool to room temperature, then peel the garlic cloves.
Place garlic gloves in a bowl and mash with a fork to make a spread.
This recipe yields about 1 cup of roasted garlic spread. You can store the roasted garlic spread in the fridge for up to one week, so adjust the recipe ingredients according to your preference.
Have you ever roasted your own garlic? What's your favorite way to eat it?