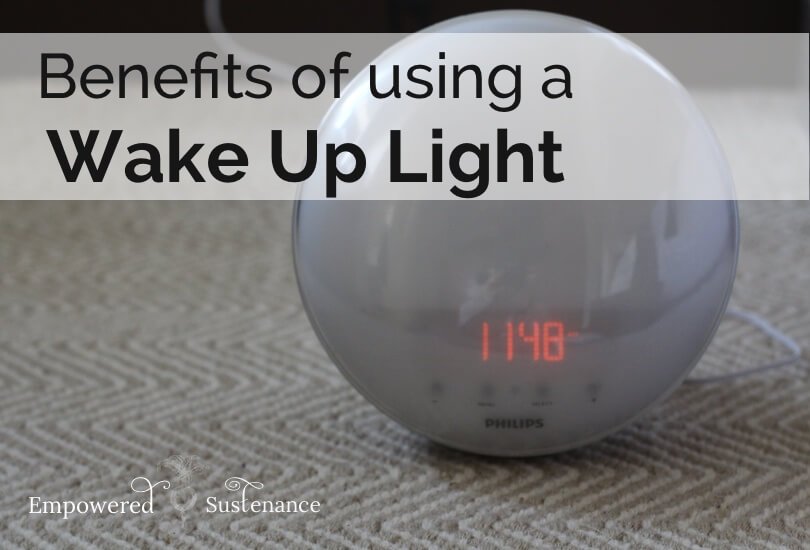 Most people love to sleep. Most people don't get enough sleep. Most people don't get enough quality sleep. What a great irony, right? We are cranky when we are tired and yet we still find ways to minimize our sleep for various reasons (or other people minimize it for us; I'm looking at you, kiddos 😉 ). But we know well that sleep is vital and that we can alter various lifestyle factors like diet and our bedtime routine to enhance the quality of our sleep.
One excellent way to help our sleep efforts is by using a wake up light. There are many benefits of a wake up light, including ridding the annoyance of a loud, disruptive alarm! This post explores other benefits of a wake up light and why you should have one as well.
"What is a Wake Up Light?
A few weeks ago, I shared on Facebook that I was trying a wake up light for the first time. I've used it for a good three weeks now and am eager to share my experience with my alarm replacement.
A wake up light produces an artificial dawn, also called dawn simulation, to wake you up in the morning. The gradual light – a type of artificial daylight – gently pulls you out of slumber and can support healthier hormone balance throughout the day.
The wake up light that I use is the Philips Wake Up Light with Sunrise Simulation, which I got here from Amazon.
Wake Up Light Benefits
I believe the human body is intrinsically tied to the rhythms of the earth. Now, we have more and more research showing exactly how these rhythms influence our health. For example, earthing – getting skin-to-earth connection – has been shown to reduce stress hormones. Daylight is another way in which nature shapes our wellbeing.
You may have read my post on Lunaception, where I explain how light can shape and balance menstrual cycles. By manipulating the light in your bedroom to mimic the light cycles of the moon, you can help re-align your menstrual cycle with the moon's cycle to support hormone balance and fertility.
A wake up light follows a similar concept. By replicating sunrise, you can support balanced hormones and a healthy circadian rhythm.
1. A wake up light supports morning cortisol response"