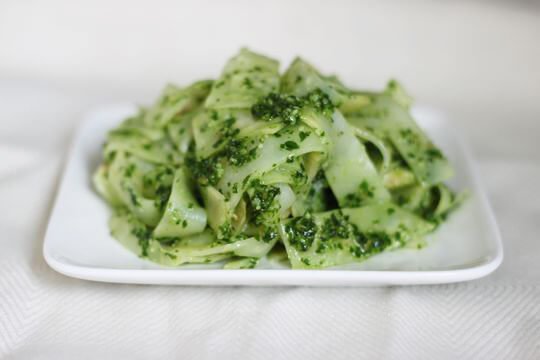 Celeriac is a hearty root vegetable that is packed with a variety of vitamins and minerals. Celeriac can easily be made into "noodles" to replace gluten-laden pasta. These celeriac noodles are tossed with a fresh pesto sauce made with beneficial parsley, healthy-fat packed nuts and olive oil, and salty Parmigiano-Reggiano cheese. Satisfying AND healthy!
"There are several types of vegetables that can be used to mimic noodles (spaghetti squash, zucchini) but none do it as well as celeriac. Peeled strands of this rugged root will cook to al dente in less than 3 minutes, making a fine bowl of faux fettuccine.
Celeriac noodles can be topped with any of your favorite sauces, but are especially good with this parsley pesto that matches the clean, fresh flavor of the noodles. Celeriac (also called celery root) has an herbal, pleasantly bitter flavor that will remind you of both celery and parsley. The flavor is stronger when raw and quite mild when cooked.
This pale root is hiding a surprising amount of nutrients beneath its humble exterior: vitamin C, vitamin K, phosphorus, potassium, vitamin B6 and magnesium. In addition to making noodles, celeriac can be shaved raw into salads, boiled like a potato or puréed into soup."