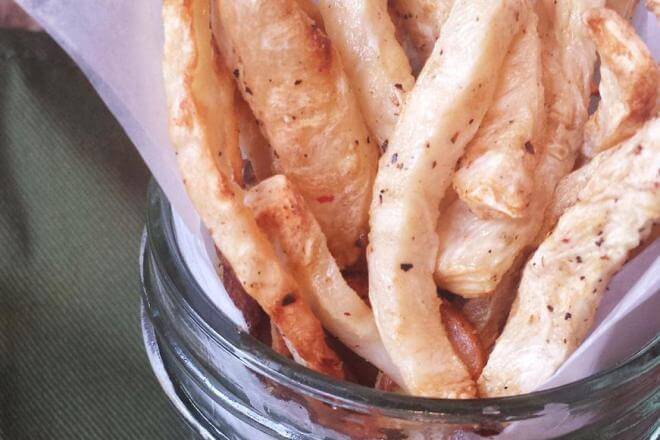 Celery root is a root vegetable that is loaded with vitamins and nutrients. If you are looking for a way to incorporate more root vegetables into your and your family's diet, try turning celery root into fries! These celery root fries are fried in beneficial coconut oil and are sure to get your family warmed up to the taste and texture of this veggie. Top with salt and pepper and enjoy!
"Celery root is something that I had never thought to purchase, mostly because I had no idea how to prepare it. I have purchased this root vegetable several times now, and have made salads, mashes and added it to soups and stews. Celery root can be eaten raw or cooked. I have more recipes to post soon using celery root in a few different ways. Stay tuned!
I asked a question on facebook fairly recently about foods that parents wish their kids would eat, and some wrote in and said that they wished their kids would eat more root vegetables. So, I figured, if it can me made into a fry, it would have a better chance at being consumed!
This was a quick, experimental recipe that yielded two thumbs up from my neices and nephews, who are mostly open to trying lots of new things, especially if they are made in Keirsten's Kitchen! We sometimes pretend that my kitchen is a restaurant where they can order the food and eat it in my living room. They love it."