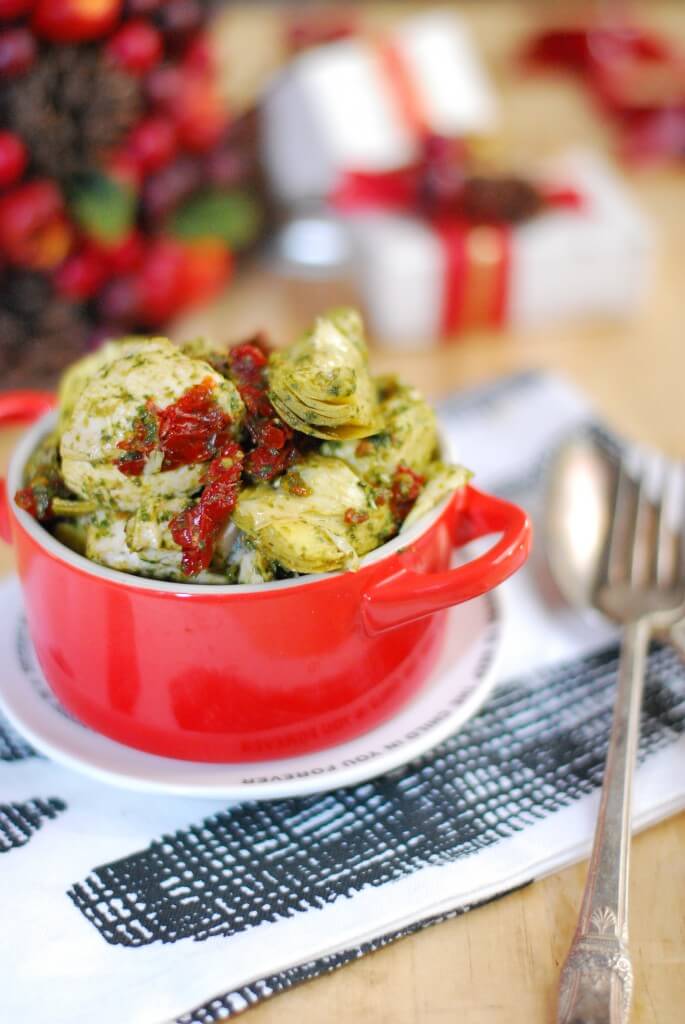 A delicious chicken salad recipe with fresh homemade pesto ads sun-dried tomatoes and artichoke hearts for extra "umph!" 🙂  This pesto chicken salad is pleasing to the eyes and the tastebuds!
"I prepared everything a couple of days ago and just mixed in the pesto and stuffed my face with it.
I had some organic basil but no pine nuts in the fridge so I subbed raw walnuts toasted in a pan for a few minutes to give it a nutty flavor.
I also added artichokes and sun dried tomatoes which I both love to make this salad extra yummy. Rinse the artichokes in cold water to remove excess sodium then drain completely or spread on top of paper towels when in a hurry. (This will prevent the salad from becoming watery).
* Ready made pesto sauce can also be used
Ingredients
(For the pesto:)
2 cups organic basil leaves, packed
½ cup raw walnuts, toasted
2 cloves garlic
¼ cup sun dried tomatoes
salt and pepper to taste
½ cup EVOO
(For the chicken salad 🙂 )
¾ cup pesto sauce *
1½ lbs chicken breast, cooked and cubed into 1″ pieces
1-15oz can artichoke hearts, rinsed and drained
½ cup sun dried tomatoes
Instructions
To prepare the pesto: Add the first 5 pesto ingredients and pulse in a food processor for 15 seconds. Slowly drizzle in the EVOO and pulse for 30 more seconds until everything is mixed together. Set aside.
To prepare the salad: Combine chicken, artichoke hearts and sun dried tomatoes in a bowl. Drizzle ¾ cup of pesto (add more or less depending on taste preference) and mix until the pesto coats each ingredient."