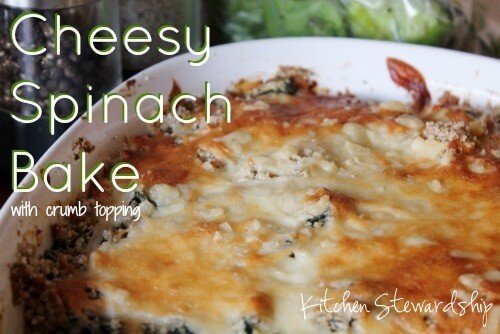 Have you ever struggled to convince your kids to eat their vegetables? Spinach seems to be one of the toughest veggies to convince kids to eat (and much less, to love). If you find yourself in this battle of the spinach with your family (or yourself!), this cheesy spinach bake is a great place to start. Made with fresh spinach, a leek, butter, spices, TONS of cheese, and an almond flour crust, this meal is a terrific way to "disguise" the spinach and get the kids accustomed to the subtle flavor and texture of nutritious spinach. We bet they will be asking for more of this melty goodness!
"Popeye would be so proud.
Not that I'd ever serve canned spinach (have you ever tried it? Central to the only meal I've ever thrown out 100% before eating without managing to save a morsel by re-making into something better) but I respect the guy for making greens seem so cool.
He should be my mascot. 
This week's Monday Mission was to incorporate more greens into your weekly menu planning, particularly appropriate for this time of year as spring greens begin to grow in abundance. (You can search the KS group at Plan to Eat for "greens" and also find this recipe all ready to go for you there!)
The goal of the mission was to encourage you to add greens into *whatever* you're already making and really think outside the box, but it's also handy to have some recipes that focus mainly on greens as well.
When it comes to a veggie side dish, 95% of the time or more I grab some fresh or frozen veggies, steam or saute them, and add some salt and pepper. I rarely use a recipe for a side dish, probably because I'm already doing enough for the main! But I cannot believe how well my children eat greens (and even the husband, who tends to pick them out of soup, the nerd) with this recipe."