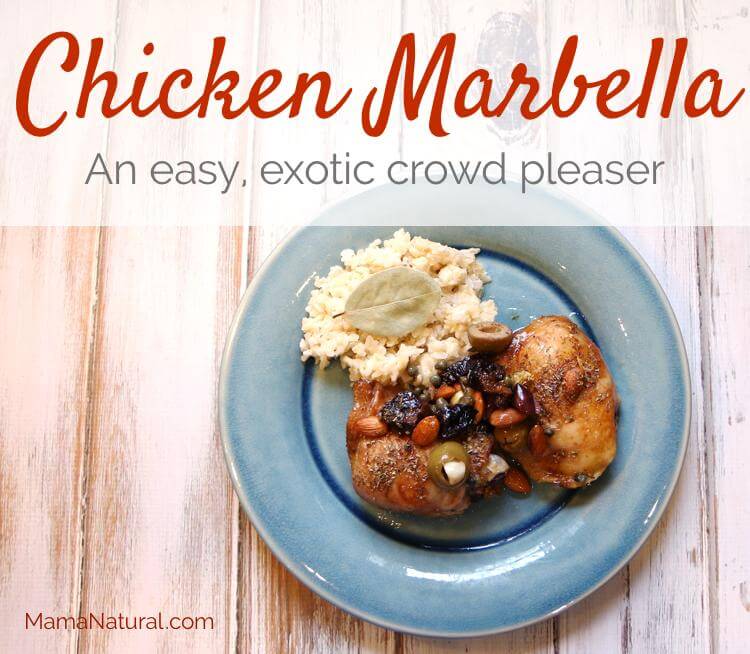 Chicken Marbella is a classic and exotic dish made with olives, capers, prunes, and white wine. With additional flavorful ingredients like red wine vinegar, olive oil, garlic, spices, and brown rice, this meal is different and satisfying. Give it a shot!
"My mom first introduced me to this recipe from the Silver Palate cookbook. The story goes that the cookbook authors, two talented ladies, had a little deli store in New York that took off due to dishes like this Chicken Marbella recipe.
And no surprise. It's delicious and exotic and healthy and easy! I love making this dish for company because it stays hot while you coordinate your side dishes. It's also a great dish for new moms (and nice change up from lasagna!)
Because I make it so often, I've tweaked the recipe a bit to my liking and hope you enjoy it too!
Chicken Marbella Ingredients
~ 5 pounds of chicken (I use chicken thighs with skin/bones in for best flavor. You can also use a whole cut up chicken. I wouldn't recommend boneless/skinless.)
1 cup large organic Spanish green olives, preferably stuffed with garlic or almonds (like these)"