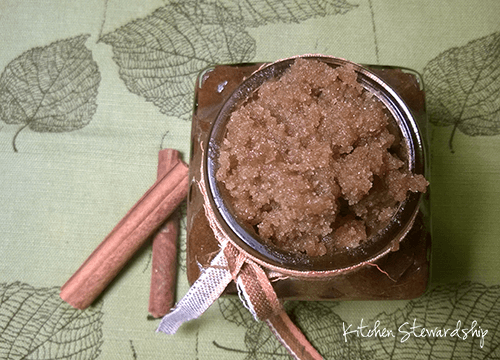 If you can't get enough pumpkin through pumpkin spice ice cream, pumpkin raisin muffins, and pumpkin chocolate chips cookies, you now have the option of pumpkin-spicing your skin 😉 This DIY pumpkin spice sugar scrub is a great source of vitamin E because of the pumpkin, and is made with honey, vanilla, and other yummy spices. This sugar scrub can help exfoliate your skin and boost skin health and clarity. Give it a try while you're sipping on your next healthy pumpkin spice latte!
"I would have to say that Autumn is by far my favorite season. Warm mugs of milky chai tea, crunchy leaves, the crisp coolness to the air, and pumpkin everything! With everyone making pumpkin muffins, pumpkin ice cream and pumpkin-whatever-else, this is the perfect season to add pumpkin to your skincare routine.
Why a Pumpkin Spice Sugar Scrub?
You may be thinking, "I want to eat pumpkin, not rub it on my face." However, this autumn food staple has some amazing benefits for skin.
Pumpkin contains naturally occurring alpha hydroxy acids, or AHA's. Many modern skincare lines have incorporated AHA's into their product because of their amazing skin benefits. These help to remove the top layer of dead skin and can be applied at high concentrations by a trained cosmetologist. Fortunately, you don't have to pay loads of money and deal with unwanted side effects in order to reap the benefits of AHA's.
So what makes these little things so amazing? AHA's combat acne while helping fade acne scars and skin blemishes. They also stimulate firmer skin to fight fine lines and wrinkles. AND they even skin tone and moisturize even the driest of skin (source).
Want Fewer Wrinkles, Smoother Skin and Less Blemishes?
Pumpkin also contains vitamin A, which isn't just good for your eyesight. Vitamin A derived retinol is huge in the skincare world right now for it's clinically studied ability to reduce wrinkles, fade brown spots and smooth skin. These prescription strength products have their downside however, causing skin irritation and peeling. Even though it's not convenient to mass market in a fancy overpriced jar, the benefits of vitamin A are available right in your pantry.
If all that weren't enough, pumpkins are also loaded with skin healthy vitamin C. This vitamin occurs naturally in both the dermal and epidermal skin layers, but declines as we age. When applied topically, vitamin C helps protect against sun damage. It's also a vital component of collagen synthesis which helps prevent wrinkles and the saggy baggies.
Unlike some products, natural vitamin C will sink deep into your skin and is considered to be more effective than it's synthetic counterparts. Not only does synthetic vitamin C in packaged beauty products not work as well, but it's been found to have some toxic side effects.
The downside to using natural vitamin C though to protect your skin against sun damage , is that its inefficient when used alone. Fortunately several studies have found that the sun protecting effects are majorly boosted, when paired with antioxidant vitamin E. Can you guess what also has vitamin E? Yep. Pumpkin."