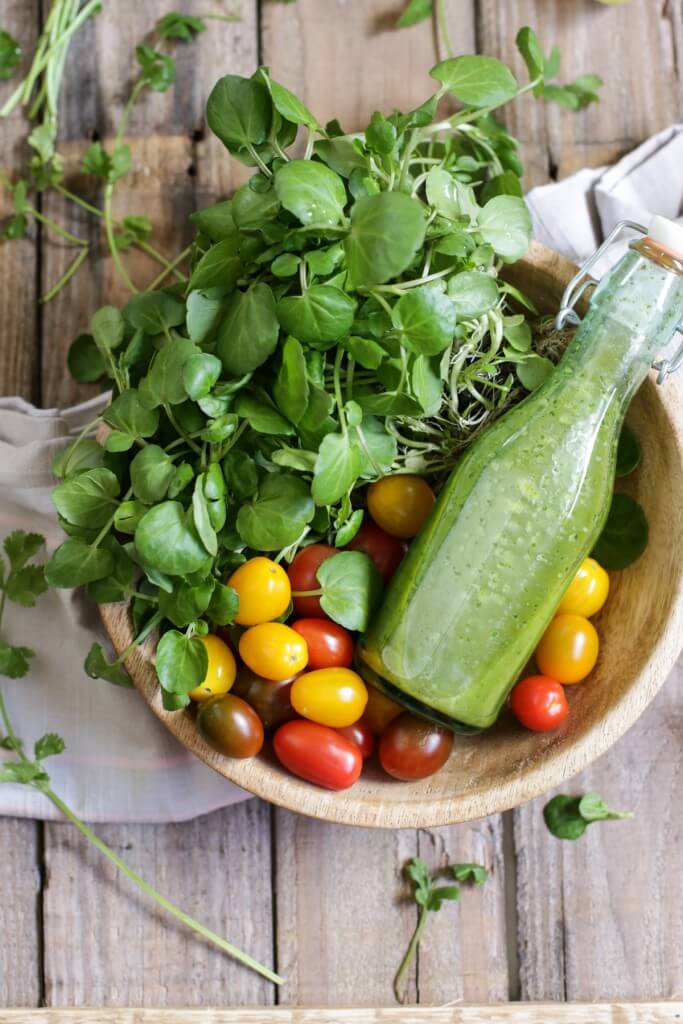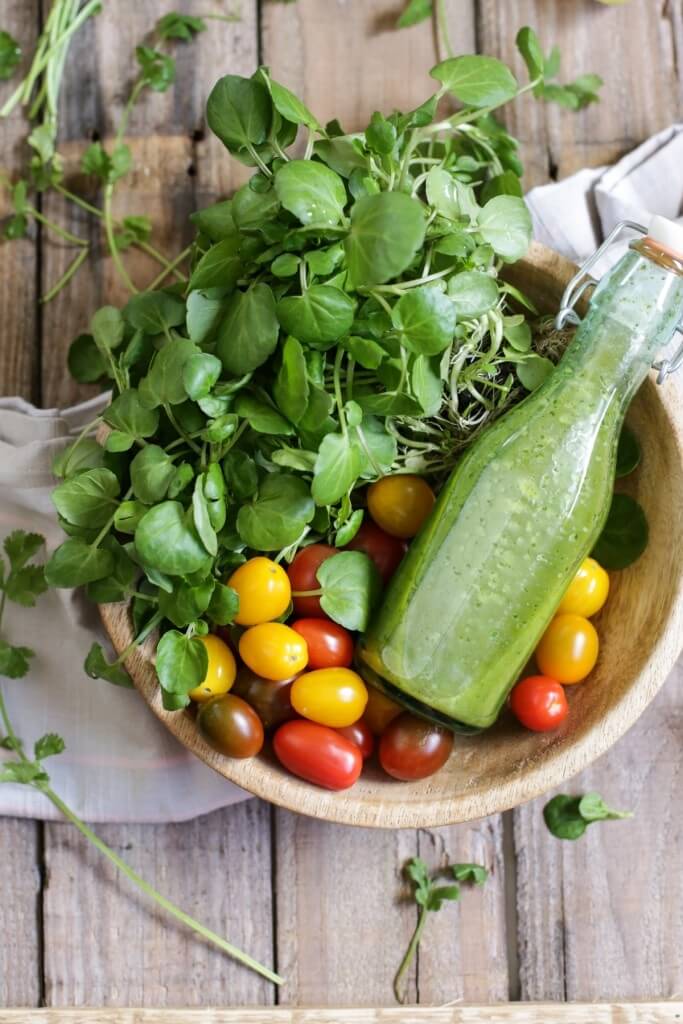 There's not much I love more than a simple weeknight meal like Italian beef or pulled pork in the crockpot, casseroles, and big salads. Dinners that are easy to assemble and require little brain power from me make my life so much better! During the spring and summer, we spend many evenings outside taking a walk or playing as a family in the yard. We often stay outside until the sun goes down, we want to soak up every gorgeous day! So when we finally come inside, we are all hungry and in need of food RIGHT NOW. I love putting together a filling and quick salad with greens, nuts, veggies, chicken, and fresh berries. Every now and then, we want to swap our olive oil for a more exciting dressing. These easy herb salad dressings would taste great on any salad, and, conveniently, are also easy to whip up in a short amount of time.
"Remember a few weeks ago when I proclaimed, "You should try growing your own food, even if it's just a couple of herbs"? Well, I'm going to say it again, "You should try growing your own food, especially herbs!" And then, I'm going to give you three simple five-minute reasons to do so. This is where the rubber meets the road, or in our case, the garden herb meets the salad bowl.
Last time we talked about about growing food, I shared my top 10 money-saving foods to grow at home. Four out of the ten foods on my list were herbs. Isn't that kind of cheating? Herbs aren't really "food."
On the contrary, herbs are one of my favorite foods to grow. Herbs require very little effort to nurture and maintain, and can be grown from seeds which means a large pot of herbs costs just pennies. They are the perfect food to grow for the low-maintenance, no-room, impatient gardener. Who me?
A variety of herbs can be found growing in pots on my kitchen windowsill or scattered throughout my small backyard garden bed.
Each spring I go on a must-plant-all-the-herbs frenzy. That time is right about now! Before ordering any seeds, I check SeedsNow.com (remember I mentioned a few weeks ago that this online company is one of my sources for non-GMO, organic seeds?) for information on which herbs actually grow in my area. And then, with a click of a button, my herb seeds are ordered and delivered to my mailbox.
Within a couple of months my kitchen windowsill and backyard garden are full of fragrant herbs just waiting to be clipped and put to good use. And that's when the fun begins.
With a huge bounty of fresh herbs and more seeds ready to be planted, I'm always in search of ways to use herbs. After all, that's the fun of growing your own food…using it!
Making homemade salad dressing is my favorite way to use fresh herbs. Homemade dressings require very little hands-on time, lack the nasty ingredients found in most store-bought dressings, and pack a ton of fresh herbs into each recipe for the ultimate flavor explosion."