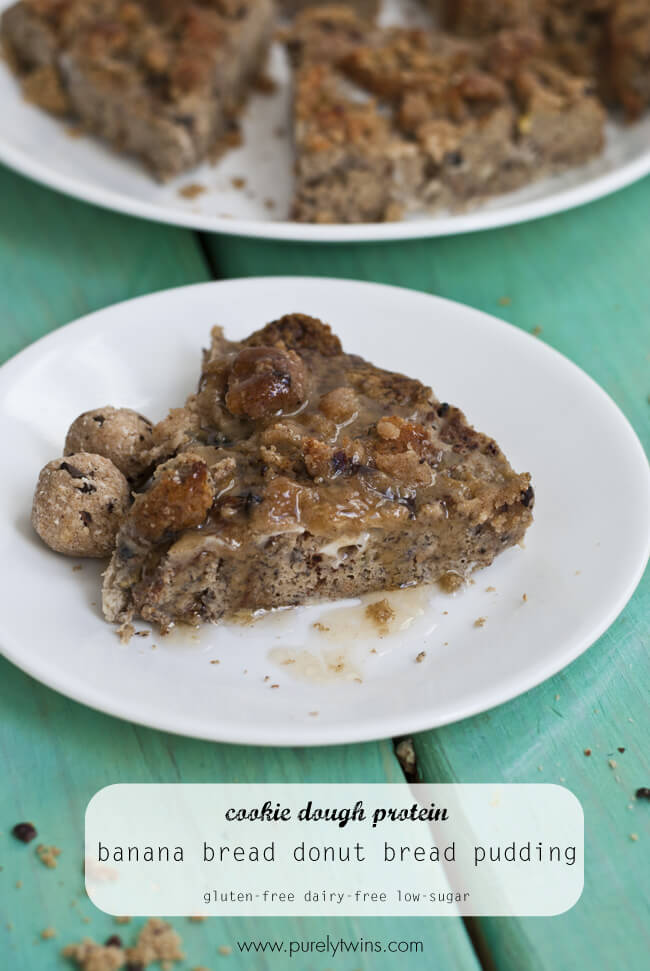 A plethora of phenomenal flavors and textures are combined in this gluten free and dairy free cookie dough banana bread pudding that is made with protein-packed donuts. That's a mouthful! But we are certain that your mouth with be full of this goodness once you have a taste. Cookie dough and bread pudding combine = YUM. And with a filling made of ingredients like maple syrup, cinnamon, and coconut milk, how can you go wrong?!
"Between cookie dough and chocolate mint it's hard to say which is our true favorite. As we really love both.! For us, it's hard to go wrong with either.
Now we have been pondering about making a chocolate mint bread pudding, but that might be pushing it. Then again…maybe not. We think having chocolate and mint for breakfast would be delicious. So we went with cookie dough bread pudding. And we're not complaining. Since our cookie dough cinnamon rollswhere such a hit we knew this idea would be too!
Oh friends do we have an exquisite recipe for you that's perfect to serve up for brunch. Or anytime of the day.
Yes you heard us correctly… cookie dough banana bread pudding!
If you're a bread pudding fan and/or a cookie dough fan get ready because this recipe was made for you. It was hard for us to share this yummy bread pudding as we wanted it all to ourselves. But since we love you so much we decided to share it 
Our older sister adores bread pudding.
So next time we are home we will have to make this for her.
We think she will approve!
Top the cookie dough bread pudding with even more raw cookies and maple syrup.
Oh dear… pure bliss. We are getting excited again just think about how amazing this tasted!"