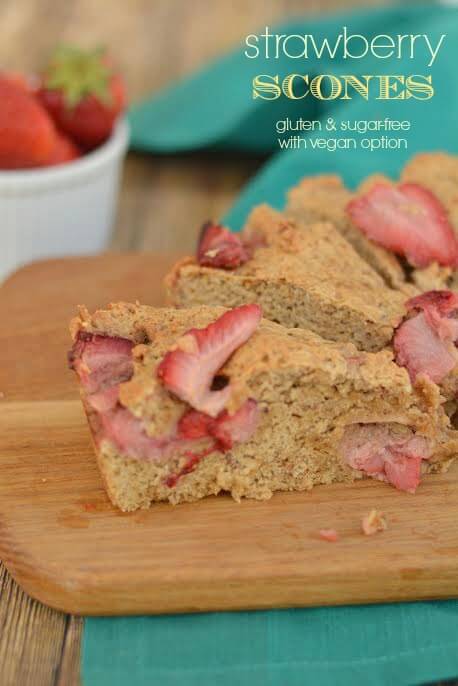 Strawberries and scones are a match made in brunch heaven. Scones are a delightful treat that perfectly accompanies coffee or tea. These gluten free strawberry scones are made with beneficial ingredients like fresh strawberries (yum!), almond flour, coconut sugar, good eggs, coconut oil, and almond milk to create not only a scrumptious dish but a healthy one as well!
"Today in our farm box we had lots of fresh strawberries!
Spring is prime strawberry season here in the Bay Area and big, local strawberries are EVERYWHERE. There is even a person on the corner of our street selling big crates of strawberries. (I wish the ones he sold were organic, but unfortunately, they are not.)
The pressure is on to use these strawberries up quickly because these only stay fresh for a couple of days. Most of the time our family just can't eat them quickly enough before they go bad, so I end up freezing them for smoothies. (To freeze strawberries, I wash the berries and then set them out on a towel to dry. When they have dried off, I take off the green top and toss them into a large freezer bag. See The Easiest Way to Freeze and Store Berries.)
I don't know about your mornings, but ours are crazy hectic. We have kids running around, trying to get ready for school as quickly as they can because they slept in longer than they should have. Every morning is the same. I wake them up for school at 7:00 am, only to see them lay in bed for another 20 minutes. I open their blinds so the sunlight hits their sleepy faces at just the right angle, pull their covers off, and talk loudly. Nothing seems to work.
Because of our morning rush, the kids often run out the door with only a few bites of breakfast. I am always trying to create healthy "grab and go" breakfasts for my kids so I know they start their day out right.
This gluten and dairy-free strawberry scone recipe is loaded with nutrition and protein. As always, I use coconut sugar and no refined sugars to sweeten.
Please note that there are affiliate links in this post. If you click on them and make a purchase, a commission might be earned. This is so appreciated and helps keep this free resource up and running."