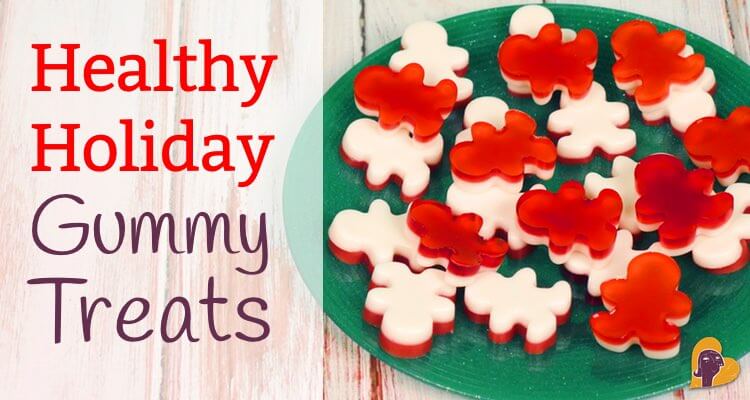 Any time we can give our kids something that seems like a treat, but is actually very good for them, we count that as a win. That's why why love triple chocolate brownies made with coconut oil and gummy bears made with elderberry syrup. And while we don't encourage rewarding kids with food or centering big celebrations like birthdays and Christmas around food (particularly sweets), we love to give them something special from time to time, especially around the holidays.
If you're looking for healthy holiday treats for kids, these dummies are a great place to start. Made with beneficial gelatin, real food ingredients, and essential oils, these gummies will not only be a crowd pleaser, but will help keep that crowd healthy. This would be a great holiday activity for kids, too! You can get them involved in the cooking process and the fun will be that much greater!
"When you live in Mama Natural's home, Christmas cookies just may be lactation ones; fudge is often dates; and soda is kombucha.
Healthy is just the way we roll
But I do let loose a little bit around Christmas and let my kids have more treats than usual… I just try to make them healthy holiday treats. In that same spirit, I put together a couple of gummy recipes.
You know how I love the gelatin treats… whether they're pumpkins or stars. After all, gelatin is a wonderful anti-inflammatory protein that aids digestion and is great for healthy blood sugar levels.
These treats are made with Vital Proteins gelatin
Vital Proteins collagenI used their collagen protein – the green can. This is the kind of gelatin that "gels." The other type of gelatin, collagen peptides, is the kind that blends in with cold or hot things and does not gel. It's great for smoothies, in yogurt or even tea.
We've worked with Vital Proteins many times now because their products come from pasture-raised cattle. Plus, it's the smoothest gelatin on the market. I also like that you get free shipping when you order off their site!"