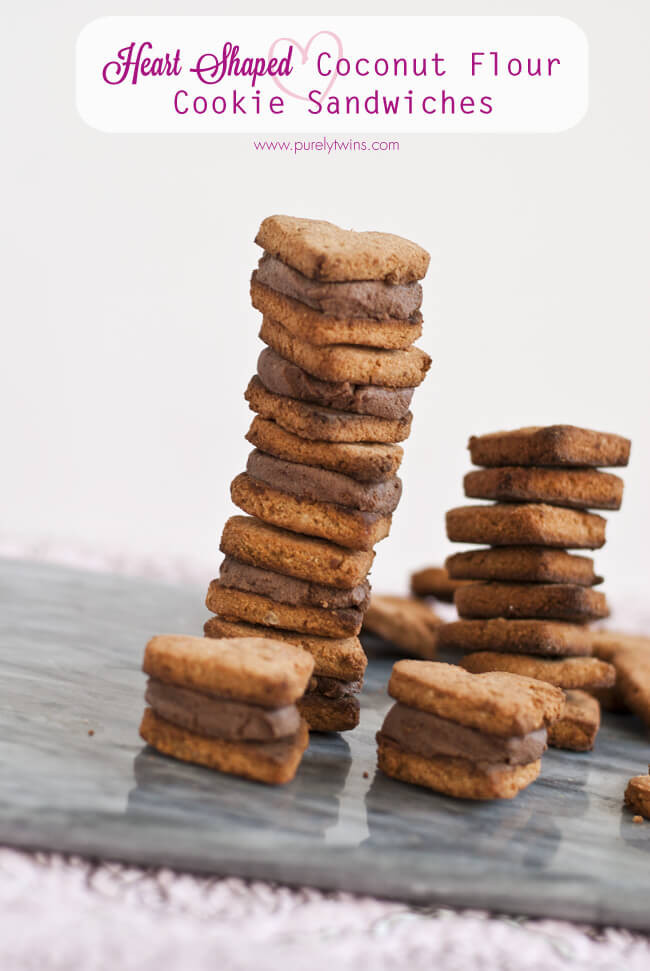 These adorable heart-shaped cookie sandwiches are perfect for your sweetheart or for a lovely get-together. Made with a coconut flour base, these cookie sandwiches are gluten-free, grain-free, dairy-free, and soy-free! Guilt free treats for the ones you love and hold dear!
"Monday we had sunny warm weather and yesterday it was cold and rainy. Boo. So we went on a nice long walk on Monday to enjoy it as we knew the rest of the week was back to winter-like weather.
Luckily we've got some yummy Valentine inspire heart shape cookies to keep us happy 
 Oops guess we should of went with more of a hot, right out of the oven ooey go0ey recipe instead you get cookies. Wait. Cookie sandwiches. Even better.
Heart shaped coconut flour cookie sandwiches that are gluten-free, grain-free, dairy-free and soy-free.
We got this idea from our soft coconut flour chocolate chip cookies, as we love soft cookies. We are not hard, crispy cookie girls.
And of course we wanted to keep it as 'natural' as possible so we used beets to provide a red color to  the cookies.
When making this batter we were super excited because the color was so pretty. A soft pink in a way. Awesome.
But as soon as they baked they lost some of that pink hue. Boo. 
They still taste AMAZING. Good. 
Even more amazing with chocolate avocado filling in the middle. Delicious. 
So if you happen to have extra beet juice sitting around, perhaps after making these beet cream cakes, these cookies would be perfect way to get that off your hands.
We love cookies. Especially soft cookies. We love chocolate. Especially chocolate filled cookies."