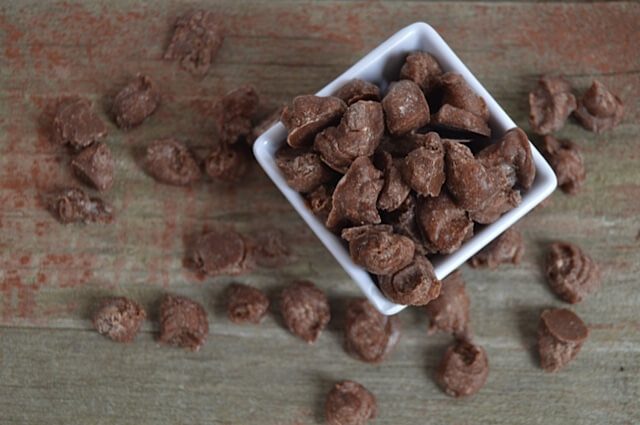 Most mornings, I wake up to enjoy a nice cup of bulletproof coffee with a veggie-filled egg dish or breakfast burger full of protein. I believe the old adage that breakfast is the most important meal of the day, and that this meal is what kicks off my day, both literally and figuratively. If I start the day eating well, then I'm more likely to make better choices throughout my whole day. But there are those days, and we all have them, when I wake up after a late night finishing a project or a soothing a teething baby where all I want with my coffee is … chocolate. Lots and lots of chocolate. If I were to just reach for a chocolate kiss or cup, my day would be kicked off with processed sugar and I am certain I would experience a crash quickly. But these metabolism boosting healthy chocolate chunks are full of healthy fats and sweet flavors that will satisfy the craving for some chocolate and the need to get the day started right.
"I have to be frank, there are more mornings than I would like to admit where I simply wanted coffee and chocolate for breakfast. Pure caffeine and sugar rush to start my day. Especially after having kids and discovering an entirely new level of sleep deprivation! While it does cause a sudden spike in blood sugar, which leads to a spike in adrenaline and really gets you going, you inevitably crash. This begins the cycle of chasing that sugar rush all day long!
As I dove deeper into my nutritional research and diet hacking, I discovered the wonders of everything coconut. Coconut oil and coconut butter actually give your metabolism a boost and also provides your body with immediate energy. Why? Because coconut oil is high in Medium Chain Triglycerides, which are fatty acids that are metabolized differently than most other fats, leading to beneficial effects on metabolism. They also bypass the liver and go right to where energy is needed, especially the brain.
What does all of this fatty acid talk mean? That you can have metabolism boosting healthy chocolate for breakfast, thats what!
The cocoa also provides antioxidants. Plus, I used stevia in favor of other sweeteners because it does not affect blood sugar. So these chocolates nourish your body and give you lasting fuel.
P.S. These also make GREAT potty training treats for the kiddos!"