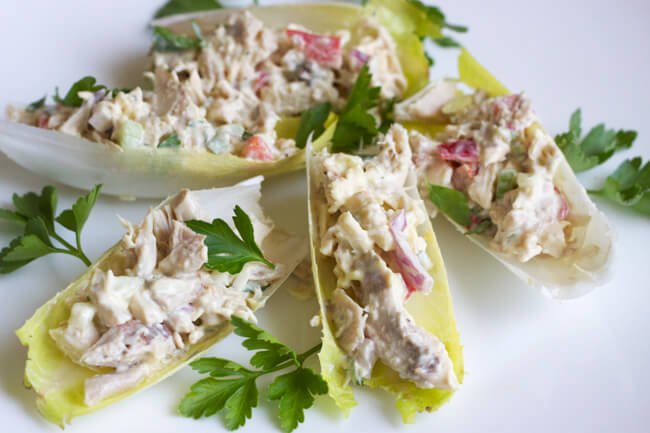 There is something about chicken salad that just screams warm weather. The cool richness of chicken salad is a favorite in America because of it's multi-layer flavor and texture. These paleo chicken salad boats are made with good chicken, fresh herbs and veggies, spices, and homemade mayo to create the perfect combination. Serve the chicken salad in endive leaves for easy and fun consumption!
"During the Spring and Summer months, our fridge is almost always stocked with Paleo Chicken Salad. It makes for such a flavorful, satisfying and simple meal! Since chicken salad is served cold, it's also perfect to pack for lunches to be enjoyed at school or at the office.
What makes a good chicken salad in my book is the mayo. Store-bought mayo may be convenient, but it is often packed with unhealthy oils and preservatives. Homemade mayo is actually quite easy to make with an immersion blender or a food processor. It is also a health food! It's a great way to add some more healthy fats into your diet.
For this Paleo Chicken Salad recipe, I like to poach an entire chicken in the slow cooker. This way, I can make a large batch of chicken salad and I can also make chicken broth at the same time. One of the keys to being successful on a Paleo diet, is cooking once and eating twice (or more)! If you don't have time to poach a chicken, a store-bought rotisserie chicken will work too.
Belgian endives are a great Paleo and low-carb alternative to toast. Their crisp and slightly bitter flavor compliments this creamy chicken salad nicely."