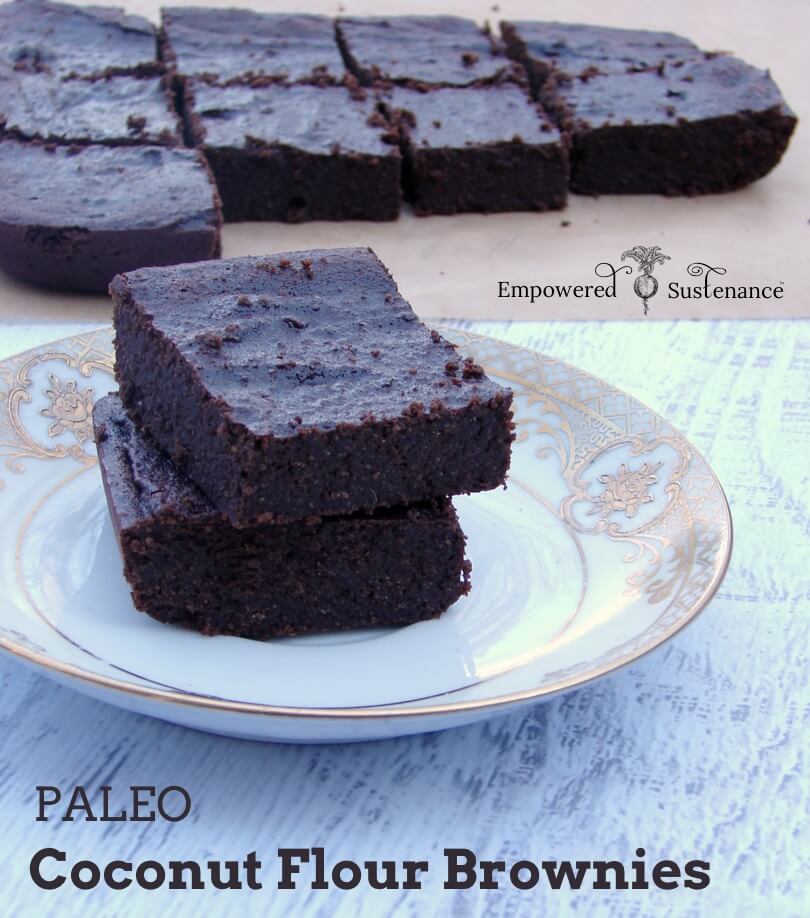 These divine coconut flour brownies are dense, fudgy, and paleo-friendly! Made with simple and healthful ingredients like coconut flour, cocoa powder, butter, eggs, honey (or maple syrup), and vanilla, these brownies are a crowd-pleaser. I mean, just look at them!
"Coconut flour brownies just got serious
At my house, brownies are taken seriously. We require a dense, fudgy, chocolatey, moist and rich treat to satisfy a brownie craving. We don't consider cakey brownies brownies… we call them chocolate cake squares.
After tweaking, I finally created a coconut flour brownie recipe that suits the brownie connoisseurs in my family. Firm, decadently chocolatey, and slightly chewy, you'll be hooked after one bite.
Coconut Flour Brownies: the ingredients
Coconut flour is my flour of choice for grain free baking. Unlike almond flour, which contains problematic enzyme inhibitors and inflammatory fatty acids (read why I avoid almond flour), coconut flour provides only healthy fats as well as fiber and protein to fill you up.
It requires a hearty dose of butter to provide moisture and the fudgy texture. Not only does the butter make these brownies delicious, it adds an important nutritional aspect. Besides the inherent nutrient-dense qualities of butter (learn why I call butter a superfood), the healthy fats help balance your blood sugar. You can substitute coconut oil or ghee for the butter, if desired, but butter offers the best flavor.
I use cocoa powder when I make this recipe for my family members but recently I've been experimenting with carob powder. I'm unable to tolerate chocolate at the moment, but I do well with carob. Unlike chocolate, carob is a pod – not a seed – and is caffeine free. I find that toasted carob powder, which you can find here or at your health food store, taste very similar to cocoa powder and works well in these coconut flour brownies."