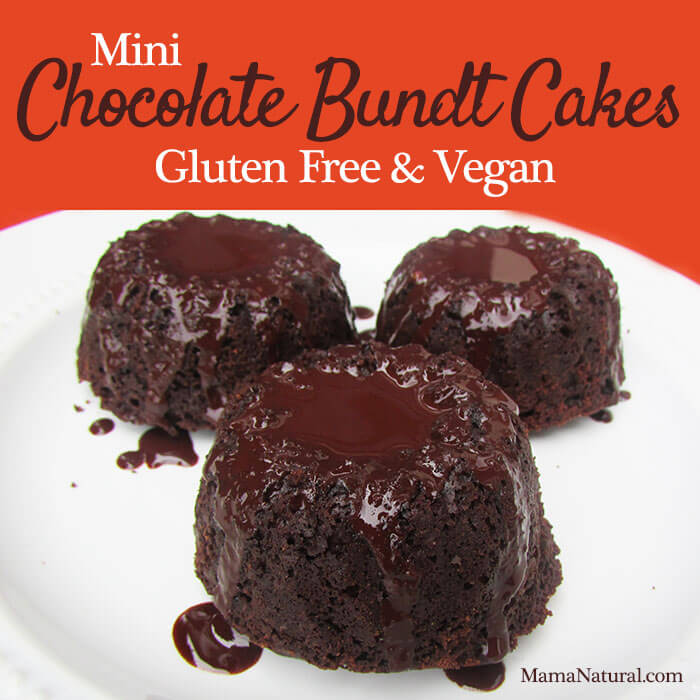 These gluten free and vegan mini chocolate bunt cakes are divine and are perfect for individual desert servings!
"I recently acquired a mini bundt cake pan through a contest I won a few weeks ago! Since I began writing my blog, I've done a lot of experimenting! It's been so fun exploring new ways to bake and cook. There are fewer things (besides teaching art, my other job) that I love more than being in the kitchen. It's like being a scientist!
These chocolate bundt cakes are a winner for sure. Easy to make, and perfect for individual desserts so that people have the option of the chocolate sauce on top if they'd like (my favorite part)! You just can't go wrong with chocolate!
Ingredients
For bundt cake:
1 cup + 2 tablespoons gluten free oat flour
1 cup almond milk
½ cup cacao powder
1/3 cup coconut sugar
3 tablespoons honey
2 tablespoons tapioca flour
2 tablespoons arrowroot powder
1 teaspoon baking powder
1 teaspoon baking soda
½ teaspoon salt
For Chocolate Sauce:
½ cup cacao powder
¼ cup coconut oil, melted
3 tablespoons honey or maple syrup
1 teaspoon vanilla extract
Instructions
For the cake:
Preheat the oven to 350
Combine all dry ingredients in a bowl and sift well
Combine all wet ingredients in a bowl and mix well"