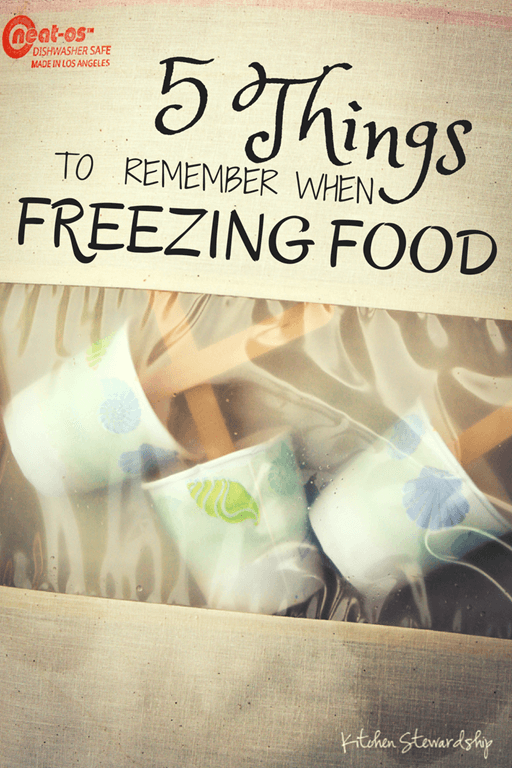 Freezing food is a fantastic way to maximize on your food budget. Is the grocery having a big sale on an otherwise expensive cut of meat? Stock up and store it in the freezer! Have an abundance of squash from your garden? Freeze the extras and use all year long! Have a baby on the way? Make real food meals ahead of time and freeze them for convenience! Defrosting frozen food for a simple meal preparation is a great way to save time and sanity at the end of a long day. It all sounds so simple, right? But there are some big freezing blunders that many people tend to make. Raise your hand if you've ever been there (raises hand)! Unfortunately, if we don't go about freezing food properly, we can waste our valuable time, food, and money. Avoid that pitfall by planning ahead and being aware of what to expect. From how to prepare the vegetables you want to freeze, to how to strategize the types of containers you use in order to maximize on freezer space, to how to properly freeze leftovers, to setting realistic thawing expectations for frozen food, this post is full of wonderful tips. This way, you can stop wasting food and start utilizing what you have, when you have it. Take the stress out of meal preparation by following these tips for freezing food!
"I often say my freezer is one of my most important kitchen tools, and it's in constant use to make my life easier.
If you know how to master your freezer like a pro, you can make so many meals more quickly and give yourself a night off from cooking here and there without much extra work at all.
Unfortunately, for many people in both real food and processed food homes, the freezer is a pre-garbage landing ground for wasted food. Either because of un-organization or freezer mistakes, frozen food gets icky and ends up being wasted (breaks my little heart).
Here are some secrets from my kitchen to yours to help you maximize your freezer and utilize it like a pro!
Treat Your Vegetables Right
I think some people are afraid to preserve an overflow of produce in the freezer because either (a) they know they don't the rules for freezing and hate to mess it up, or (b) they have had a bad experience with freezing something in the past that didn't thaw for use very nicely afterward.
In my opinion, there are some vegetables worth buying in bulk to freeze and some that just aren't.
VEGGIES I LOVE TO FREEZE
The following vegetables can just be frozen raw and do not need to be blanched (lightly steamed) before freezing:
onions (I'll dice and freeze if I have too many)
green, red and spicy peppers (I buy bushels (or pints of jalapenos) in August and freeze diced, sliced, and halved for stuffed peppers) We even took them camping for an easy skillet meal, above!
zucchini (diced, shredded or sliced – zukes can sneak into all sorts of meals you wouldn't expect, even chili or lasagna, and people usually don't even notice!!)
tomatoes (freeze them whole or halves and then thaw partially, blend or crush and toss into chili or soup in the winter, yum!)
greens (it's recommended to blanch them, and I do if I have the time because it reduces their size and neutralizes oxalates and goitrogens, BUT in a pinch I've just tossed kale or spinach in a bag and used it in smoothies, and it was no problem)
NOTE: This is so important! Don't expect to put diced peppers from the freezer on your salad or sliced tomatoes on a sandwich – ALL these frozen veggies are going to come out mushy, so they're really only for cooked applications, smoothies, or maybe dressings like this spicy dressing from Natural Fertility and Wellness."