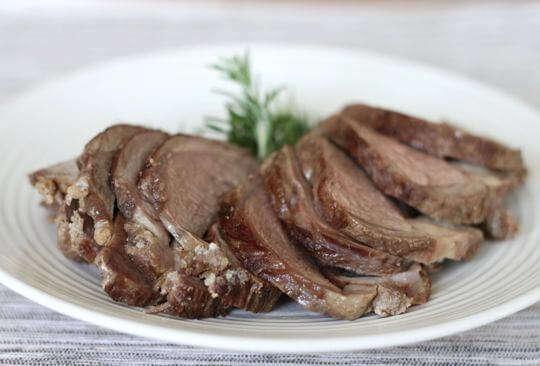 Salt roasting is a technique that allows the meat to stay moist and juicy without all the hassle of excess seasoning. A salt roasted lamb packs a flavorful punch without a lot of effort. The salt both seasons the meat perfectly while keeping it tender. Made with egg whites, salt, rosemary, and and olive oil, this salt roasted lamb requires few ingredients but will leave everyone feeling spoiled!
"There are so many recipes for roasts that simply say, "season the meat with salt" before cooking. But exactly how much salt? Too little, and the meat is bland. Too much, and you've ruined a huge chunk of meat. But more often than not, home cooks are left on their own to figure out how much salt to sprinkle on top.
Salt roasting is a technique that takes off all the pressure of correctly seasoning meat before you cook it. It also helps keep meat tender and juicy, which is especially helpful when cooking meat that can dry out easily, like lamb. As long as you're willing to go through a lot of salt to make it happen, you're guaranteed a highly flavorful, juicy leg of lamb.
As the meat roasts beneath a hard shell of salt, all the juice gets trapped inside. The meat loses no flavor and is partially steamed while roasting, keeping it moist. This technique can be used with almost any large piece of protein: whole chickens, whole fish, pork loins and beef roasts.
Although egg whites make a harder shell, water can be used to dampen the salt instead. Add any herbs you like to the salt for more flavor. To know when the meat is done, use an instant read thermometer poked through the salt crust into the meat.
Salt roasting couldn't be easier and the results are perfect every time."