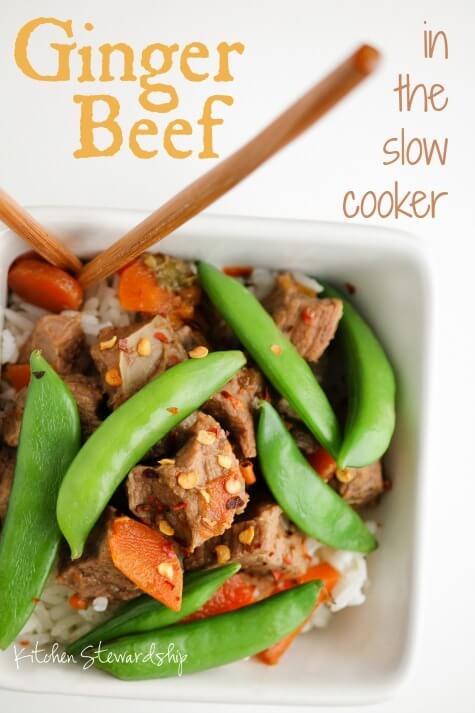 This recipe combines fantastic flavors of fresh vegetables with the potent tastes of fresh garlic, ginger, and other spices. Ginger beef is a dish that pleases both kids and adults, and this version is made in the crock pot! Serve ginger beef over a bed of rice for a stress-free and nutritious meal.
"I hate it in the morning, but man, I love it in the evening!
Slow cooker recipes are becoming more and more a part of our weekly routine here at the Kimball house. I'm making it a priority to find and try many slow cooker meals, and I have not been disappointed. It is absolutely a joy to be able to interact more with my kids, go over homework, play with the toddler, ETC. between the hours of 4-5:30 rather than futzing with dinner.
I still have to cut raw vegetables for salad and sometimes make a side veg or remember to start some rice, but on the days when Morning Katie gives Dinnertime Katie the gift of a slow cooker meal, Evening Katie is eternally grateful.
On that note, I'm actually supposed to be getting the crockpot started right now with the BBQ chicken recipe from Crock On! which was also reprinted with permission in The Healthy Lunch Box. We haven't had it in a while, and it's a big hit with everyone – but that doesn't mean I really want to take 10 minutes to throw it together in the morning.
This month's focus in on using fresh ginger, so imagine my glee when I was searching through on of my slow cooker eBooks a few weeks back and found a recipe calling for fresh ginger! From Your Freezer to Your Family by Stephanie of Mama and Baby Love includes ways to make slow cooker meals that get frozen and then go directly into the slow cooker (boy, Morning Katie would love that!). I have never actually taken the time to do the freezer part, but the recipes are great for regular slow cooking too."