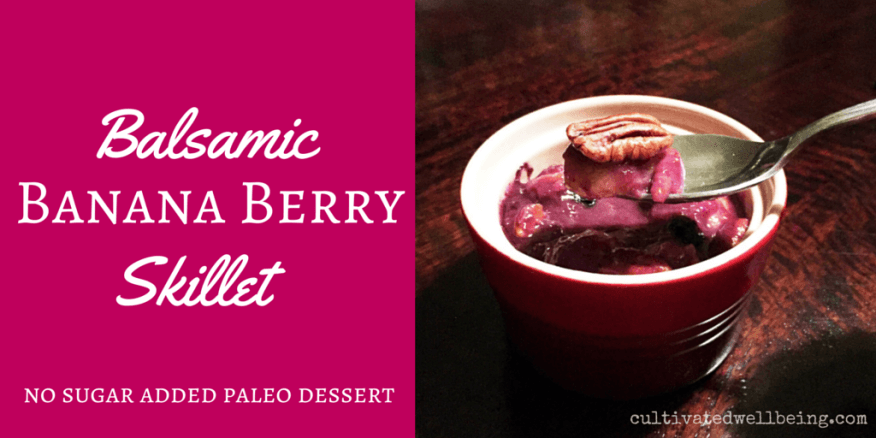 As we enter prime crop season, I cannot contain my excitement for the bundles of fresh produce that will come our way. We have some small container gardens in our own yard full of fresh herbs and some of our most frequently eaten veggies. We have many friends that have bigger gardens, bee hives, and fruit trees and bushes; meaning we will be blessed by their overload and generosity when they bring us some of their harvest. We will be scouring through our local farmers' markets and devouring their goodies with our eyes. This means I will be happily forced to be creative when it comes to making recipes with what we are given. When we receive an abundance of fruit, I like to mix it up and make some desserts with the fruit like raw berry crisp or beet jello. This balsamic banana berry skillet will be on my lineup this summer. The flavors seem to be out of this world and unexpected, which keeps things exciting!
"If there's one thing that can send me down the path of too-much-of-a-good-thing, it's sweets. Cookies, ice cream, chocolate covered things — nuts, coffee beans, fruit, you name it — I love it. I work on reserving sugary treats for special occasions, but I'll admit I've been known to overindulge from time to time. This weekend we had family in town, and ice cream, cookies, budin, and cake were had by all. It was a deliciously fun weekend, but admittedly I went a little overboard, so today I wanted to share a dessert that fits into a healthy lifestyle while still feeling decadent and delicious.
No Sugar Added Dessert
"No Sugar Added" doesn't mean there's no sugar at all. Fruits contain naturally occurring sugar, as do starches and even some vegetables (like carrots and peas). The idea behind creating a "No Sugar Added" dessert without the addition of artificial sweeteners is to avoid refined sugars and additives while allowing the natural sweetness of the whole food (fruit, sweet potato, etc) to shine through.
There's an adorable little shop on the main drag in Murphys, CA called Marisolio that sells artisan olive oil and balsamic vinegar. You can go in and taste as many flavors as you'd like, either in a tiny plastic cup or on a bite of bread. They recommend amazing combinations that can be used far beyond your average salad dressing — on popcorn, as marinade, on pancakes, on ice cream.
Maple Balsamic
One of the ones I adored was the maple balsamic vinegar. They paired it with a buttery olive oil for me to try, and I felt like I had a bite of pancakes in my mouth! I used this special vinegar to add just a touch of maple flavor to this recipe, but it's just as delicious to add the standard balsamic if you aren't privy to this artisan flavor (you might consider ordering some though! It's delicious!) or leave out the vinegar entirely."