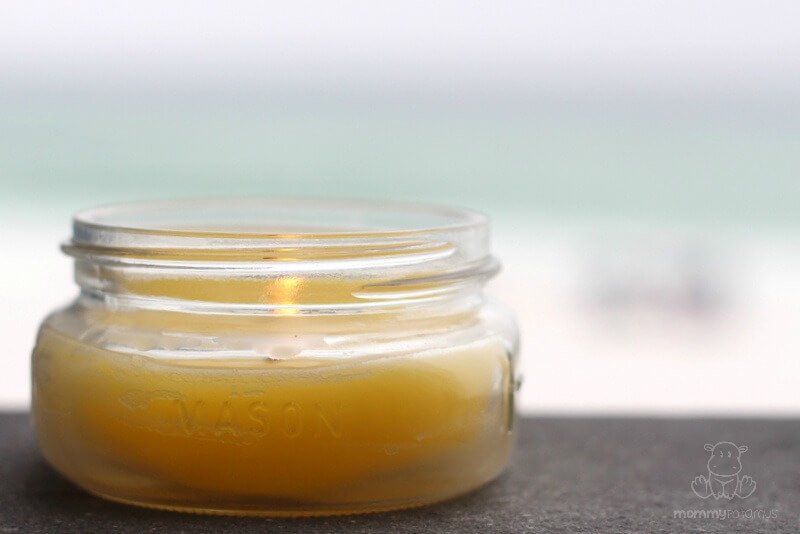 Our family loves the great outdoors. Once the weather warms up, we spend our evenings exploring the local parks, tending our herb garden, taking family walks, and playing baseball in the backyard. What we don't love, however, is the increase of mosquitos that accompanies the toastier days. We don't use store-bought bug spray due to its high-chemical content and potential toxicity, so we have to get creative when it comes to keeping the bugs at bay. One way we do this is by using citronella essential oil. this post details how to make citronella candles that you can burn outside to keep you and your family safe from the annoying biters!
"Have you ever pulled up a chair to a mouthwatering outdoor meal, only to realize that you are on the menu? As fun as it can be to flail your arms and smack yourself repeatedly to rid yourself of mosquitos, no-see-ums, and other biting insects, it can also be nice to take a deep breath, sip on your watermelon agua fresca, and just be.
While we love our homemade bug spray when we're hiking or working on our farm, I prefer these candles for outdoor meals because they create a bug free zone around our dinner.
If you caught my tutorial on making beeswax candles, you may notice that the instructions are a little different. That's because recently some of my candles cooled so quickly that the wax cracked down the middle. I noticed that a few of you had mentioned the same problem in the comments, so I did some experimenting and found a way to prevent it.
How To Make Citronella Candles
Equipment
Makes one candle. Double, triple, or quadruple the batch if desired.
6 oz filtered beeswax
30-40 drops citronella essential oil, or more if desired
Natural, lead-free/zinc-free wick
Short, wide-mouth 8 0z ball jar
A note on wick size: Beeswax properties can vary a lot depending on when and where it was harvested. I've suggested a size based on what's worked for me, but you may find that a larger or smaller wick works better for you.
Step 1: Prepare your candle jars
Position your wick in the center of the jar and, if desired, use a sticker to help it stay in place. The potami donated a few for my project and they worked just fine. Next, use pencils or straws to hold the wick in place near the mouth of the jar. I taped my straws to the side of the jar to keep them from rolling around."