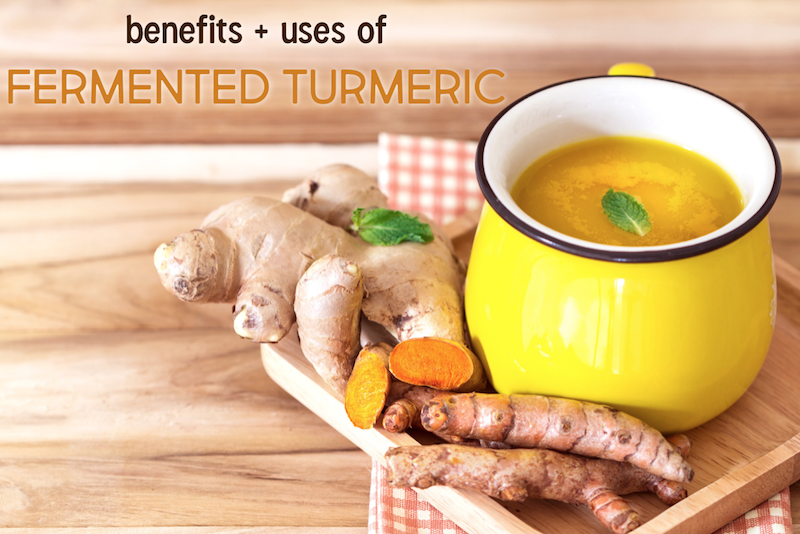 Tumeric is a colorful, aromatic, and flavorful spice that is often used in Indian cuisine. It is a delicious addition to many different recipes. Turmeric isn't only used for its potent flavor, but also for its health-boosting ability. In fact, it is so beneficial for health that some people consume it straight like in these turmeric bombs. Fermented turmeric takes the benefits to another level and may be used more effective ways than just sprinkling it on your food.
Benefits of Turmeric
Turmeric has gained popularity in recent years as it has been studied for its anti-inflammatory properties. It has been credited with easing issues like:
Skin irritations and acne
Insomnia
Cancer
Asthma
Indigestion
High blood pressure
Cataracts
Mood swings
Diabetes
Weak muscles
and more
Additional Benefits of Fermented Turmeric
So we can obtain all these benefits by sprinkling some turmeric on our dinner each evening? Not exactly. Because turmeric is poorly absorbed on its own, is quickly eliminated, and has a high rate of metabolism, it is considered to have low bioavailability. Adding it as a minor spice to your recipes will of course not be a waste of time (or spice), but there may be more effective ways to consume turmeric in a way that your body can better absorb it. By fermenting turmeric, you add beneficial probiotics, boosting the health properties of this already-dynamite spice.
What Are the Side Effects of Turmeric?
A quick note about the possible side effects of turmeric. If you are on certain prescription medications, be sure to check first with your doctor before consuming turmeric, especially consistently. Pregnant women should only use turmeric under the guidance of their OB or midwife, as turmeric can cause uterine contractions.
When consuming turmeric in larger amounts (more than a sprinkle on food), some people experience nausea, diarrhea, and lowered blood pressure.
If you're concerned about the potential side effects of turmeric, consult with your doctor and begin with smaller quantities.
How to Ferment Turmeric
Fermenting your own turmeric is quite simple. If you've ever made your own kombucha or water kefir, you're already a step ahead. The process of fermentation is similar. It simply involves grating raw turmeric and combining that with sugar and water. Place the mixture on a shelf, away from direct sunlight. You'll continue to feed the bug with more sugar and added turmeric until fermentation. Andrea provides an excellent, in depth tutorial in this post.
Ways to Use Fermented Turmeric
You could add fermented turmeric to any kind of food you'd like. In fact, you may find yourself adding it to every meal! Here are some of our favorite ways to use it.
Beet Ginger Sauerkraut
This recipe may not sound appealing for those new to fermented foods, but give it a shot! This makes a great topping to chicken or burgers. Adding fermented turmeric increases the probiotic content and includes the bonus benefits of turmeric. Here is our favorite recipe.
Beet Kvass
Beet kvass is a salty, earthy beverage rich in probiotics. Fermented turmeric adds health benefits and a surprisingly delightful kick. Here's a terrific and easy recipe.
Fermented Horseradish Relish
Another perfectly potent condiment, this relish pairs wonderfully with ham, on salads, and atop steaks. Turmeric adds wonderful flavor to an already delicious dish. Learn how to make your own here.
Fermented turmeric also tastes great to homemade condiments you already love like ketchup, salsa, mayo, and mustard. Remember, if you're adjusting to the taste of turmeric, start with smaller amounts and work your way up.
What's your favorite way to use fermented turmeric? Let us know in the comments below!