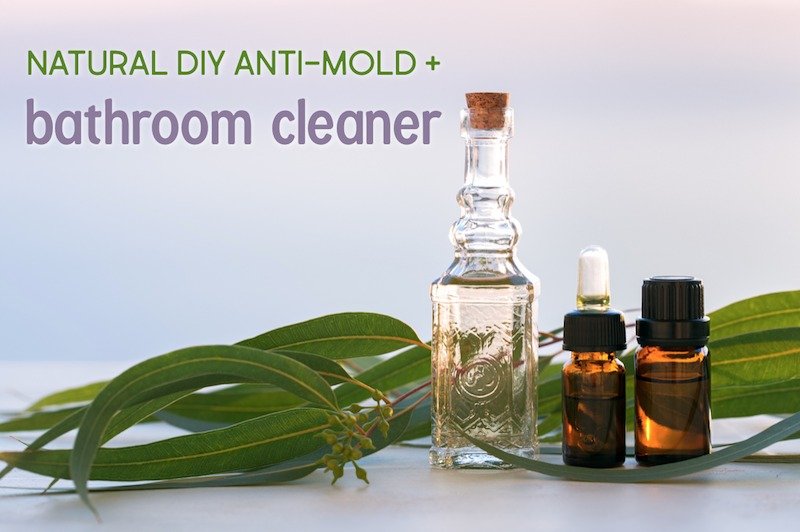 Mold is gross; and, as time goes on, we are learning more about just how bad mold is for us. Unfortunately, many of us battle mold in our homes. When we think about our loved ones and little ones being exposed to various types of mold, we tend to want to grab the bleach to get rid of the problem. But this natural DIY anti-mold spray and bathroom cleaner offers a better solution when it comes to deep cleaning. Where harsh bleach actually prolongs the problem, this spray (made with essential oils) treats the real issue without creating more toxicity in your home.
The Problem with Mold
Most households have small amount of common surface mold present. We see it most often in bathrooms and showers where water exposure is more frequent. While this minor mold doesn't cause major immediate harm, it's important to eradicate by cleaning it often before it morphs into a bigger problem.
A Note About Black Mold
While common household mold can be treated with this bathroom spray, black mold is a different story. Unfortunately, black mold is not always visible, so it's important to pay attention to the often-overlooked symptoms of toxic mold exposure.
If you have discovered black mold in your home, or if you have reason to believe it exists, do not let anyone who is not a licensed professional attempt to remove it. This includes you, your landlord, your contractor, or your uncle who scores he removed it from his own house. Attempting to remove affected areas like walls, flooring, tile, and carpet without proper training and knowledge can cause further damage to your home and to your health. It may seem like a pain to hire and pay a professional, but it will save you money and health in the long run.
Vinegar and Tea Tree Oil
If you don't suspect black mold in your home, then there's a very easy and budget-friendly way to keep the mold at bay. The secret ingredients in this anti-mold spray and bathroom cleaner are tea tree oil and your basic distilled white vinegar.
Benefits of Tea Tree Oil for Cleaning
Tea tree oil is naturally antibacterial and anti-fungal. This makes it ideal for cleaning, especially cleaning surfaces that are more prone to grow mold.
Benefits of White Vinegar for Cleaning
When mixed with vinegar, tea tree oil's bacteria-killing abilities are increased. White vinegar has long been touted for its cleaning capacities, and it's affordable price makes it the perfect DIY anti-mold spray addition. The tea tree oil and distilled white vinegar work together to prevent mold buildup, to clean and kill mold, and to serve as an everyday natural household cleaner.
DIY Anti-Mold Spray and Bathroom Cleaner Recipe
Now that you're convinced of the dynamic duo's ability to solve all your mold woes, here's how to quickly and easily whip up a batch of our own bathroom cleaner.
What You'll Need:
Distilled White Vinegar
Distilled Water
Amber Glass Spray Bottle (like this one)
How to Make:
Fill the large spray bottle at least half way with the vinegar. (The more vinegar you can stand smell-wise, the better. An 80:20 ratio is ideal)
Add about 80 drops of essential oil (I know this seems like a lot, but the bottle of tea tree oil lasts a long time). Swirl to mix.
Fill the remainder of the bottle with the distilled water. Shake to combine.
To Use:
Shake before each use to re-mix the essential oil with the vinegar and water.
For every day cleaning, spray and wipe down surfaces as you would with any other cleaner.
For heavier treatment of mold (or to prevent mold in more common areas like the shower, tub, and sink), spray on and do not wipe. It may initially smell strong, but the smell will pass and leaving the cleaner on longer will be more likely to prevent mold build up.
Share this recipe with a DIY-loving friend on social media!