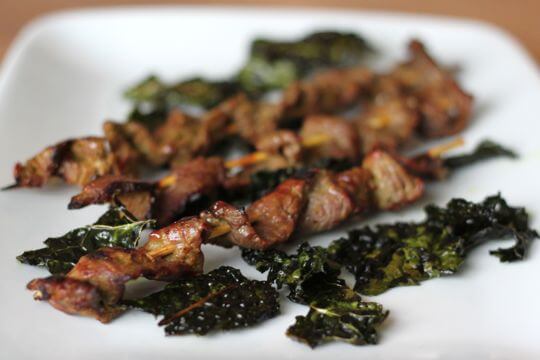 Skewers make for a simple and delicious meal. The marinade for these beef skewers are made with coconut oil, bold spices, and coconut aminos. Coconut aminos are a natural replacement for soy sauce and add a marvelous depth of flavor. These beef skewers are paired with nutritious, salty, and crisp strips of kale.
"You'll taste a bold blend of ginger, garlic, lemongrass and the sweet/salty flavor of coconut aminos in every bite of these intensely flavored and aromatic strips of beef. Served with crispy coconut-sesame kale on the side, this is perfect party finger food and pretty great as a main course, too.
If you haven't cooked with coconut aminos before, think of it as a soy-free, gluten-free replacement for soy sauce and tamari. Made from aged coconut sap and sea salt, the flavor is both sweet and salty. It doesn't taste like soy sauce, but has the same mysterious umami quality that adds an interesting dimension of flavor. It's great with beef and also works well as a marinade for fish.
The addictive crispy kale served on the side is an especially tasty version of the ubiquitous kale chip. A blend of coconut and sesame oils, plus a generous hit of salt, turns kale into a snack that's better than a bag of chips. If you're looking for a side dish instead of a snack, try roasting the leaves a little less, so they're still slightly tender with a only a little bit of crunch."