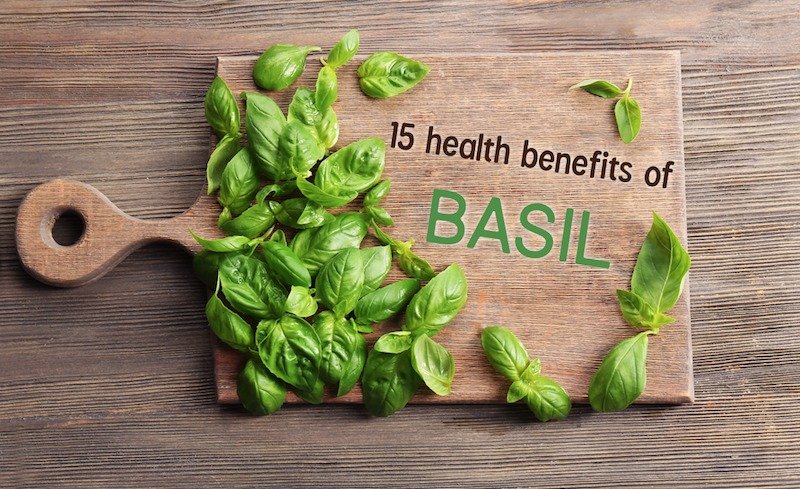 I married into an Italian family, so basil is no stranger. It's a vital ingredient in my mother-in-law's famous secret meatball recipe, and we frequently use basil to top some of our favorite dishes (see below for recipes ideas). Lucky for us, the health benefits of basil are just as impressive as its fresh taste and versatility. Fresh basil is available for purchase in most grocery stores, and it grows quickly and easily, making it ideal for gardeners, especially those gardening for the first time. We love it so much that we have an entire DIY herb box dedicated just to basil!
History of Basil Use
Basil has been used for over 5,000 years, finding its genesis in either Africa or India (it's origin is hotly debated, but regardless, both geographical regions have been using basil for thousands of years). Across cultures, basil was largely used to signify mourning and protection, often being used in burials and at grave sights.
Basil finally made its way to the West in the 1500s. Its culinary uses were explored as the French and Italians added it to their cuisine. The health benefits of basil were noticed long ago, and many people believe basil helped the brain.
Throughout history, however, there have been some bizarre beliefs about basil. During the Dark Ages, basil was thought to be poisonous and a symbol of the devil. Doctors even advised against smelling basil as they believed it would cause scorpions to appear in the brain.
I know, it sounds crazy!
Thankfully, now we are aware of the factual health benefits of basil and how wonderful it tastes in food. Lucky us!
Different Types of Basil
While there are handfuls of varieties of basil, here are the five most common and well-loved:
1. Sweet Basil
This variety is the most common and the most widely available. It's often what you see growing in your neighbor's raised bed garden. It works well in a variety of dishes, but especially compliments Italian food like pasta sauce, soups, and sweet Italian sausage.
2. Thai Sweet Basil
The leaves of Thai sweet basil are smaller than those of sweet basil and they have pointed ends. This basil has more of a spicy kick to it, and is often used in Asian dishes.
3. Purple Basil
The purple leaves of purple basil make it pleasing to the eyes and are often planted in window boxes to show off their beauty. Purple basil isn't as sweet as other varieties, and instead has an earthy, clover-like flavor. This makes it a perfect garnish and salad addition, adding robust color to a plate.
4. Lemon Basil
Lemon basil tastes exactly like the name implies. Lemon basil pairs wonderfully with fish, salads, vegetables, in marinades, and even in cocktails.
5. Holy Basil
Holy basil is most known for its religious significants to Hindus. It has a bitter taste when eaten raw; so it is mostly used in hot teas or in slow-cooked dishes.
Basil Nutrition Facts
Basil is a favorite herb for culinary use, and its nutritional value brings additional benefits to the table. 1/2 cup of basil contains:
Calcium – 4% DV
Copper – 9% DV
Iron – 4% DV
Folate – 4% DV
Magnesium – 3% DV
Manganese – 12% DV
Vitamin A – 6% DV
Vitamin C – 5% DV
Vitamin K – 98% DV
15 Health Benefits of Basil
The health benefits basil are as varied as its uses. Here are the top 15 health benefits of basil and how it protects the body and helps it fight disease.
Acts as an Anti-Inflammatory
Chronic inflammation can lead to major health problems. The essential oils in basil contain beta-caryophyllene and other enzyme-inhibiting components, which prevent inflammation.
Supports Cardiovascular Health
The anti-inflammatory properties of basil also promote cardiovascular health by allowing the heart to contract and relax properly. The high amounts of Vitamin A and magnesium help protect the cell walls from free radicals, improving blood flow and preventing cholesterol from oxidizing in the blood stream.
Anti-Bacterial Properties
Bacteria build up within the body can cause life-threading conditions like tuberculosis and staph infections, as well as more minor illnesses like strep throat. The intense oils in basil contain properties that prevent and eradicate the build up of bacteria, including those that do not respond readily to antibiotics.
Helps Prevent Arthritis
As previously mentioned, basil contains high amounts of beta-caryophyllene, which has been shown to prevent and even cure arthritis.
Rich in Antioxidants
It's widely known that antioxidants fight free radicals in the body, which threaten the body with a myriad of disease. Because of basil's high Vitamin C content, it helps the body combat these free radicals.
Fights Cancer
This is perhaps one of the most important health benefits of basil. Cancer is a result of abnormal cell growth. Free radicals are often to blame for such mutation. Basil helps prevent the improper growth of cells and can stop the spread of already-abnormal cells.
Protects the Liver
Studies have shown basil greatly increases detoxifying enzymes that reduce the buildup of fat in the body. Since the liver is responsible for fat break down and storage, consuming basil can support the liver's function.
Combats Depression
Both consuming and smelling basil has been shown to reduce stress. Basil has a positive impact on the neurotransmitters that are responsible for producing the hormones that make us happy.
Improves Digestion
Basil helps the absorption of fat and prevents constipation. Additionally, manganese supports metabolism, and its high content in basil makes the herb a great aid in proper digestion and weight loss.
Protects Against Diabetes
Basil has been shown to be beneficial in diminishing blood glucose levels and inflammation, which contribute to the onset and constancy of diabetes.
Treats Headaches
Basil is very effective in treating headaches. There are several ways to employ its medicinal benefits. You can create a face steam using basil, steep basil in hot tea, or make an herbal poultice to place at the site of your headache.
Improves Eye Health
Both beta-carotene and Vitamin A have been proven useful in promoting eye health and strong vision. Both of these compounds are present in large amounts in basil.
Boosts Oral Health
So much of the health of our bodies is dependent upon the health of our mouths. Basil can protect against bad breath, pyorrhea, and other diseases of the mouth. You can even make your own toothpaste containing basil for whiter teeth.
Prevents and Treats Premature Grey Hair
Basil aids in the proper functioning of the thyroid and pituitary glands, which are responsible for regulating hormones. For those with early-onset great hair, there may be an issue with these glands. Basil can help both prevent and treat the premature greying of hair.
Protects Brain Health
Basil is rich in Vitamin K and manganese, which are both credited with helping the neurons in our brains fire faster, thus keeping us "sharper", even as we age. Inhaling basil essential oil is often recommend for those searching for better concentration and memory-building.
How to Use Basil
Basil is perhaps used most frequently in homemade pesto, and for good reason. It's absolutely delicious. Here's a simple pesto recipe that uses almonds instead of pine nuts for added flavor, nutritional benefits, and cash-savings.
The great thing about basil is that you can chop it up and throw it onto nearly dish and it will taste good: in pasta, on pizza, with cooked meat and vegetables, in salads and soups, and even in desserts and cocktails.
There's nearly no wrong way to eat basil!
What to Look for When Buying Basil
When shopping for basil, whether at your grocery store or your local farmers' market, look for bright green leaves. You want the leaves be firm and without signs of wilting.
Our Best Basil Recipes
See? The health benefits of basil really are as desirable as the flavor. So if you're now craving basil for your tastebuds and health, here are some easy and fun recipes to try!
Have you ever grown basil in your garden? What's your favorite way to use it? Let us know in the comments!