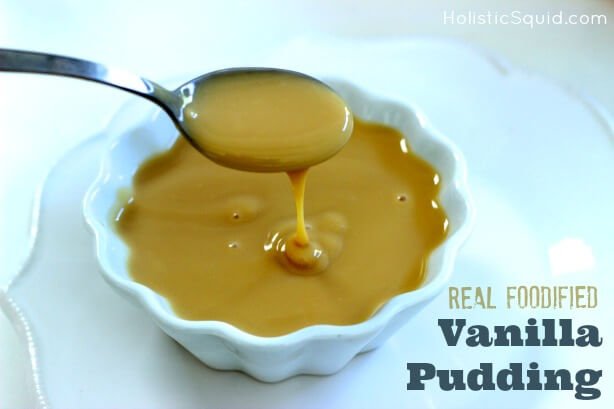 In our house, we're all about recreating some of our former non-real food dishes. We love to find ways to make these favorites with nutritious ingredients, at a lesser cost, and that taste way better. If your kids love treats like jello or gummy bears, there are great ways to put a healthy spin on those so that they can occasionally enjoy without you worrying about them consuming too much processed sugar and other non-ingredients. Add this healthy homemade vanilla pudding to the list. It's a bit of a labor of love to make, but tastes better than the boxed stuff.
Have you ever made your own pudding with real food ingredients?
"I'm a bit obsessed with real foodifying the junky comfort foods of my youth. Some of my favorite makeovers are nachos with homemade chips, french fries with gravy, the perfect mashed potatoes, gluten-free deep dish pizza, and chocolate chip cookies, and salted caramels.
Recently nostalgia called again…
Remember vanilla pudding out of a box? I loved that stuff as a kid, and and now we can fall in love with homemade vanilla pudding all over again – real food style.
Here's what's in the boxed stuff:
Sugar, Modified Food Starch, less than 2% of Natural and Artificial Flavor, Salt, Disodium Phosphate and Tetrasodium Pyrophosphate (For Thickening), Mono- and Diglycerides (Prevent Foaming), Artificial Color, Yellow 5, Yellow 6, Bha (Preservative)
Yuck.
I mean, how do they manage to shove so much junk into some simple pudding?!?
My version of homemade vanilla pudding (inspired from this one) is packed with grassfed milk and butter and eggs from pasture raised hens. Rather than white sugar crack, it's sweetened with mineral-rich maple syrup that also lends a caramel flavor when paired with pure vanilla extract. Finally, instead of something that sounds like lighter fluid, my version is thickened with arrowroot powder that is both nutritious and non-allergenic.
Best of all, this homemade vanilla pudding tastes way better than anything I've had out of a box.
By the way, my husband the Brit ( a.k.a. "Bloke") looked at me a bit suspicious when I offered this "pudding". As you probably know, in the U.K., "pudding" refers to all-things-dessert – unless we're talking Yorkshire pudding or blood pudding.
By British standards, my homemade vanilla pudding would be called vanilla custard.
Whatevs. It's a bowl full of happiness no matter what you call it.
Homemade Vanilla Pudding Ingredients
5 1/2 cups of whole milk, from pasture raised cows
6 egg yolks, from pasture raised hens"