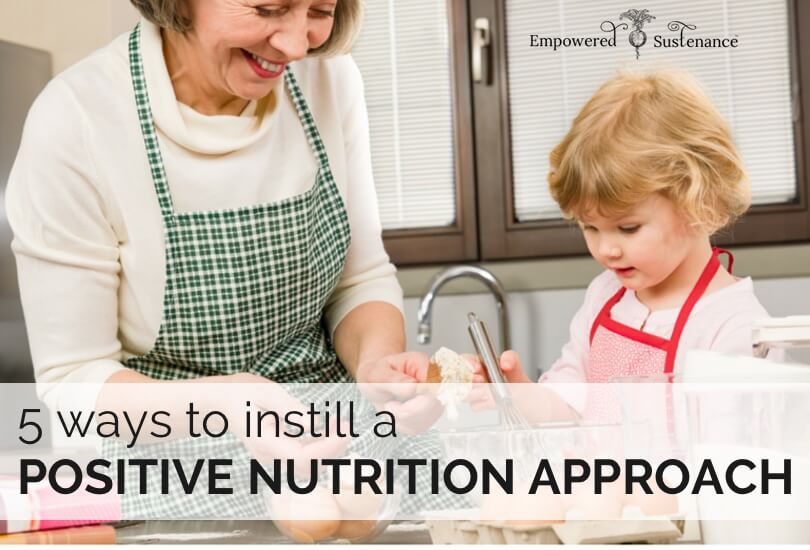 As parents, or any adult who has influence over a young person, we are entrusted with the task of teaching them about food and how it fuels our bodies. This includes a healthy attitude toward food and getting the kids involved in the kitchen, which can even help cure a picky eater. When we instill a positive nutrition approach in our kids while they're young, we set them up for future success when they will be making food choices without use by their side. This post explores concrete and specific ways to cultivate this positive nutrition approach in children.
"When I was faced with an unmanageable autoimmune disease, I turned to food as a last resort. It is likely no exaggeration to say that changing my nutrition saved my life. I know from experience that food is capable of profound healing, but it's also capable of creating confusion, guilt and negativity.
Opening a magazine, turning on the TV or even walking down the isle of the grocery store, young children are bombarded with messages that create a fear-based relationship with food. At a young age, kids may learn to equate certain foods with feelings of guilt or fear, rather than seeing nutrition in a positive light. This negative approach to nutrition is, unfortunately, carried into adolescence and adulthood.
Here are 5 ways to promote a positive nutrition approach in the young people in your life. These steps also work to create a positive nutrition approach in your own life, too!
1. Focus on the quality, not quanity of food
Don't pass on the "calories in, calories out" mindset to your daughter when discussing nutrition. Wellbeing deals less with the quality of calories rather than quantity of calories consumed or burned. Contrary to popular belief, calories are not created equal. For example, research shows that coconut oil consumption promotes fat-burning. However, it is more calorie-dense than a piece of toast, which may contribute to a blood sugar spike, which in turn triggers fat storage.
Emphasize the quality of ingredients on the ingredient list rather than the nutrition label on food products. For example, don't concentrate on the grams of fat on a nutrition label, but instead look at the quality of fat in the ingredient list. Is canola oil listed? Skip it (it's not a food). Is olive oil listed instead? Then that's a better choice.
2. Don't emphasize products labeled diet and light
I have three major problems with foods labeled diet, light, low-fat, cholesterol free, fat free, etc.:
These labels are often put on food products, rather than whole foods. Always choose real foods over food products. As Michael Pollan says, "Consider that the healthiest foods in the supermarket–the fresh produce–are the ones that don't make FDA-approved health claims, which typically festoon the packages of the most highly processed foods.""