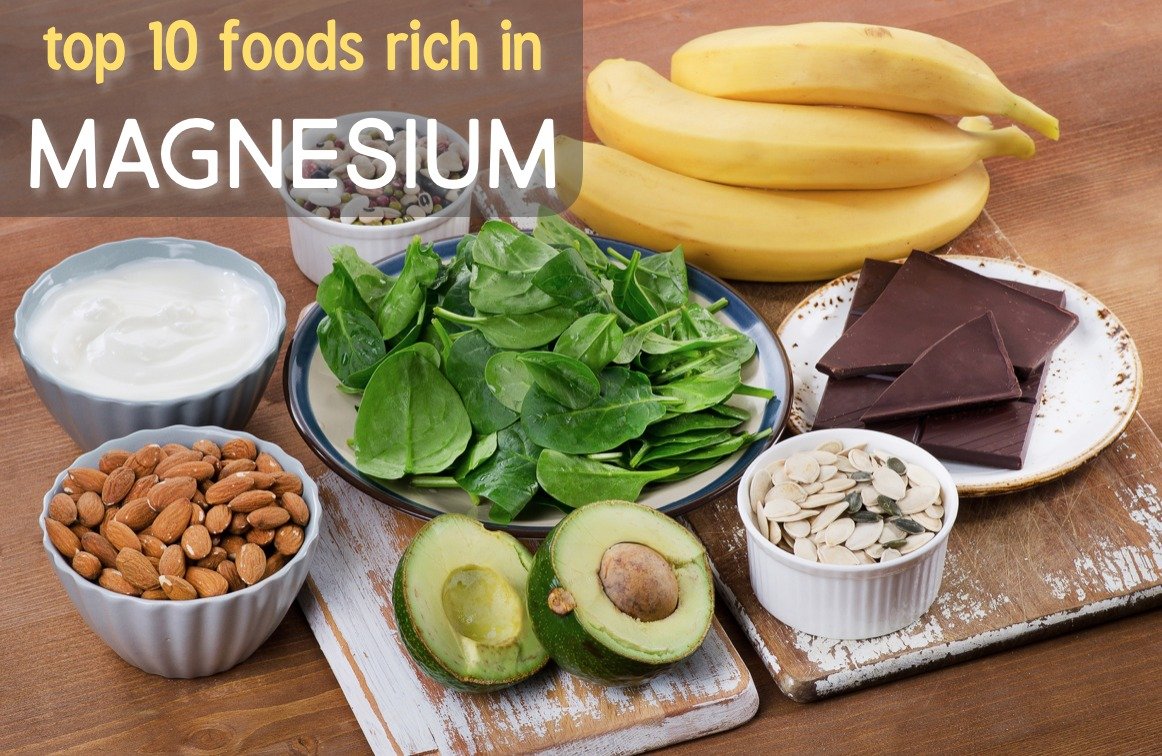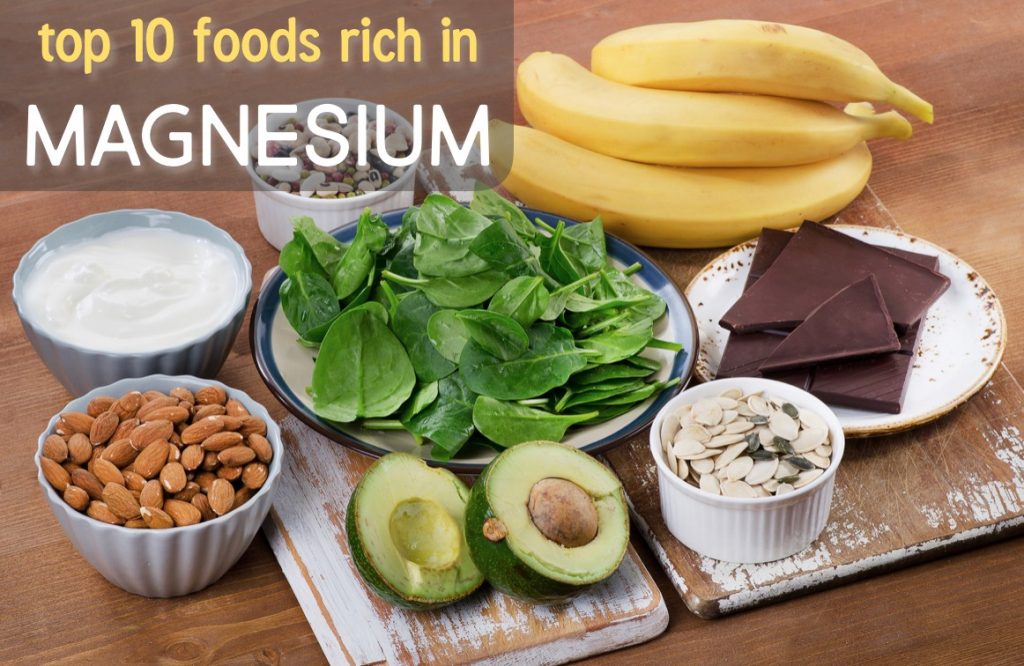 Thankfully, the mineral magnesium is finally getting the mainstream attention it deserves. For far too long, we've overlooked the essential role magnesium plays in our daily functioning from proper sleep to thyroid function to dental health. Magnesium is a vital mineral for our complete health. Many illnesses and diseases can be linked in some way to a magnesium deficiency. The thing is, most of us are deficient in this important mineral. So what exactly is magnesium, and why it is so essential to our health? Why do we tend to be deficient in it? And what are the best magnesium rich foods to consume in order to boost our levels?
What Does Magnesium Do?
Magnesium is responsible for a number of bodily functions that, when awry, can cause major discomfort or even pain. Magnesium is vital for things like:
Normalizing blood pressure
Easing cramps and spasms in muscles
Decreasing insulin resistance
Promoting restful sleep
Relieving chronic pain
Improving asthma and other respiratory issues
Preventing kidney stones
Giving rigidity and flexibility to bones
Aiding in proper Vitamin D absorption
Promoting weight loss
Improving digestion
As you can see, magnesium is not a mineral to be scoffed at. Now that you know what magnesium does in our bodies and why it's so important for several functions, let's look at how to know if you're deficient.
How to Tell if You're Low in Magnesium
Considering over 80% of adults are low in magnesium, we are likely deficient to some degree. Because of our decrease in proper nutrition over the last several decades, as well as poorer quality soil used to grow our food, many of us are seriously lacking in magnesium.
The silver lining is that it's pretty easy to tell if you're low in magnesium without complicated or expensive tests. Often, the symptoms alone are enough to confirm magnesium deficiency.
You are likely deficient in magnesium if you're experiencing any of the following (and especially if you are experiencing five or more symptoms):
Depression
Body odor
Poor dental health (cavities)
Allergies
Headaches
High levels of stress
Kidney stones
Insomnia
Back pain
Infertility or PMS
Fatigue
Thyroid disease
Extremity coldness
Junk food cravings
Loss of appetite
Poor short term memory
Irritability
Constipation or IBS
How to Increase Your Magnesium Intake
The best way I have found to increase magnesium levels is by using topical magnesium. This podcast episode does a great job explaining why magnesium is more quickly and easily absorbed by our skin than by our digestive system. Because of this, I use this magnesium oil on my skin every day (or you can make your own). Simple DIYs like magnesium body butter and magnesium bath soak are also fantastic ways to increase your magnesium intake.
But even though transdermal absorption may be more effective, consuming foods high in magnesium is still highly recommend, useful, and beneficial. I notice the biggest difference in the ease of my magnesium-deficiency symptoms when I'm using topical magnesium in tandem with being intentional about eating more magnesium rich foods.
Top 10 Magnesium Rich Foods
Fortunately, the foods that are highest in magnesium are delicious and can be prepared in a variety of ways. One of my favorite breakfast meals is a "magnesium smoothie" where I combine spinach and chard, yogurt, almonds, a banana, and avocado with some water and ice and blend. It's a filling breakfast that gives me energy for the day and provides a healthy dose of magnesium.
Spinach – 40% daily value
Chard – 38% daily value
Pumpkin Seeds – 23% daily value
Yogurt – 13% daily value
Almonds – 20% daily value
Black Beans – 15% daily value
Avocado – 15% daily value
Figs – 13% daily value
Dark Chocolate – 24% daily value
Bananas – 8% daily value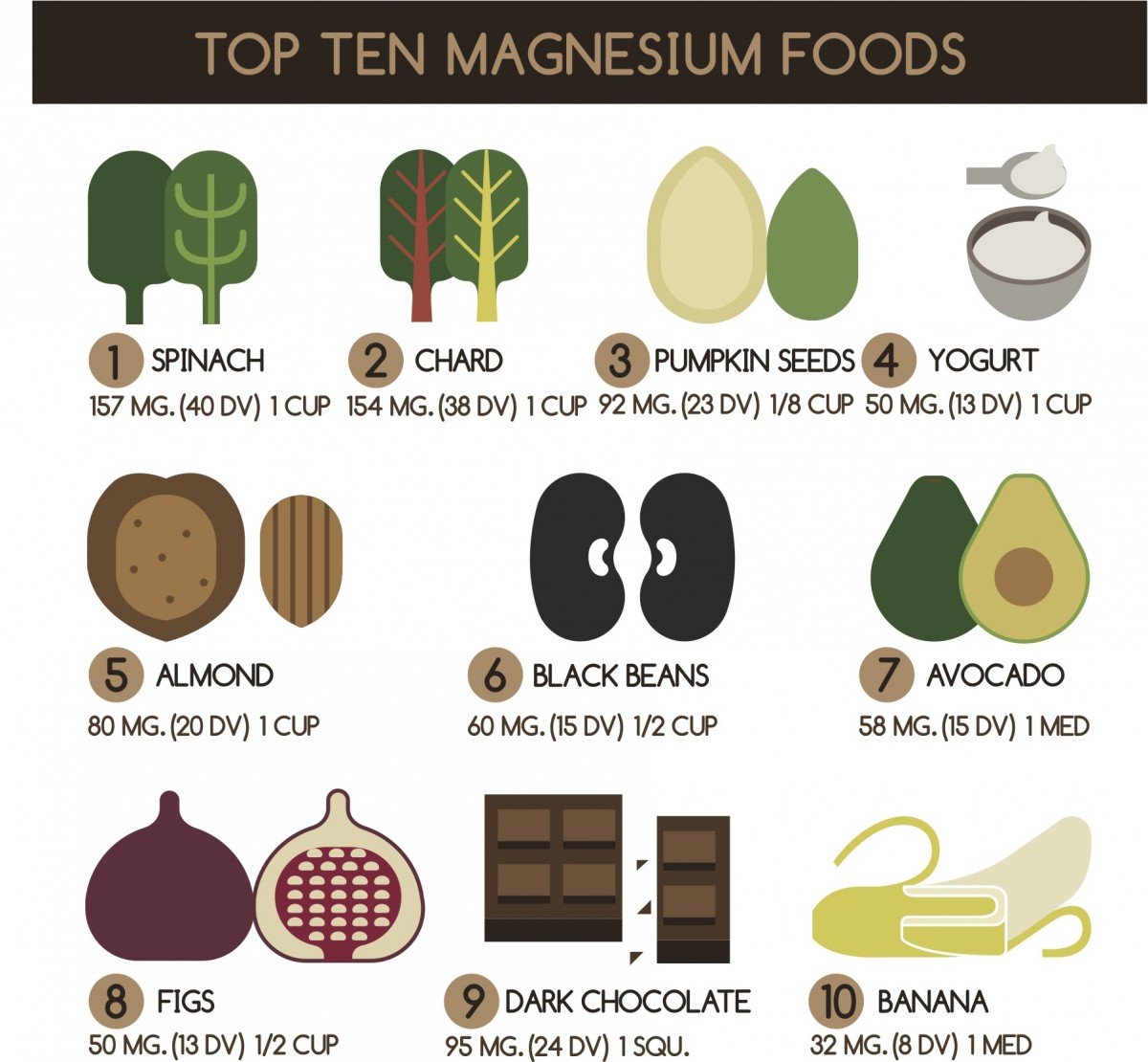 These sources are best when organic, and I get most of my nuts, seeds, and chocolate here.
Are you low in magnesium? Which foods listed above do you plan on incorporating into your diet in order to boost your magnesium levels?