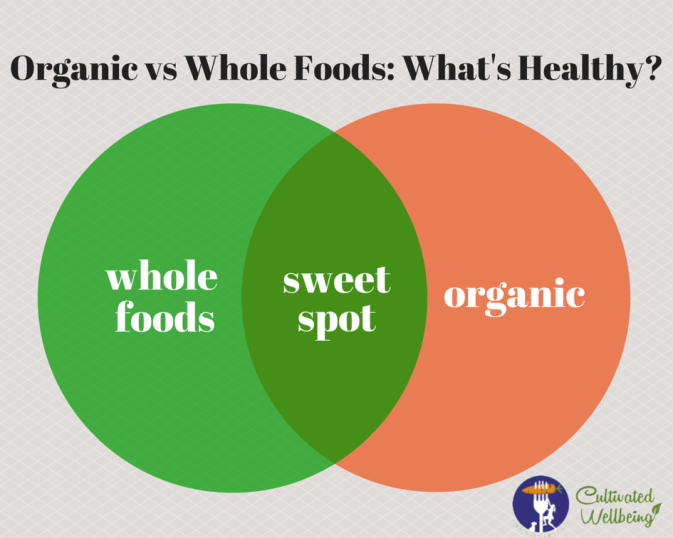 There are many buzz words in the heath and wellness realms that have leaked into the mainstream, causing some confusion. Words like "gluten free", "organic", "paleo", and "natural" can leave many people scratching their heads, wondering what these words actually refer to. We've talked before about the difference between grass fed and organic meats, and we've prioritized the most important foods to buy organic. But the thing is, we can still buy "organic" junk food. This post outlines the organic vs. whole foods debate and what you should truly be focusing your time and energy on.
"What's the difference between "organic" and "whole foods"?
Does "organic" mean healthy? Are all organic foods considered "whole foods"? What's the difference? How do I know if my organic food is healthy? These are all great questions.
Defining "Whole Foods"
Here's the simplest explanation: Whole foods are those that come out of the ground and onto the plate as-is with little to no processing. But we're not talking about only raw food, so that's not where the explanation ends. Whole foods remain whole when cooked; it's the type of processing beyond heat exposure from cooking that can dramatically change the makeup of the food, and therefore its nutritional value and how we feel when we eat it.
When a food is separated into many parts and used as additives or ingredients in packaged foods (think soy lecithin, stearic acid, maltodextrin), it's no longer a whole food. When a whole food like a seed or grain is ground into a flour or processed into oil, it's no longer a whole food. Even whole wheat. Whole wheat bread made with wheat flour is not a whole food. Same goes for gluten-free options (rice flour is not a whole food). I discussed this briefly in my cereal rant, which I'll admit had nothing to do with the recipe that followed, but it had to be said.
Grey Area
Of course, as with nearly everything in life, there's a grey area. When it comes to dairy, there's room to argue about what "counts" as a whole food; some argue that pasteurized, homogenized milk is not a whole food, because those two processes negatively affect the quality of the fat and protein in the milk. Technically fermentation is a process, but even purists tend to agree that full-fat yogurt, kefir, and cheese are a healthy part of a whole foods diet."