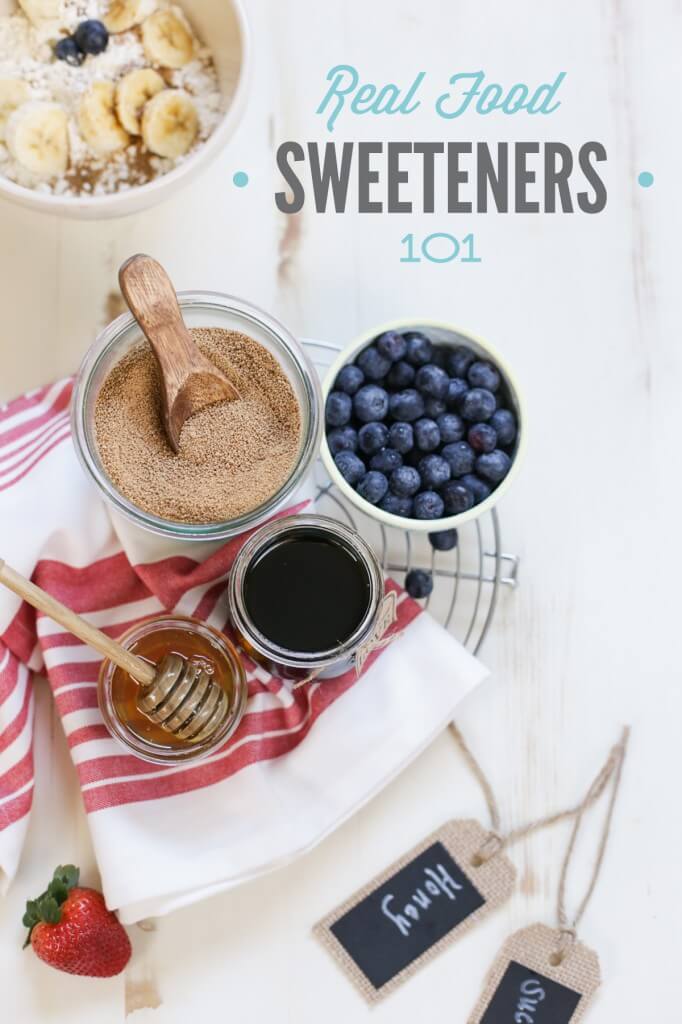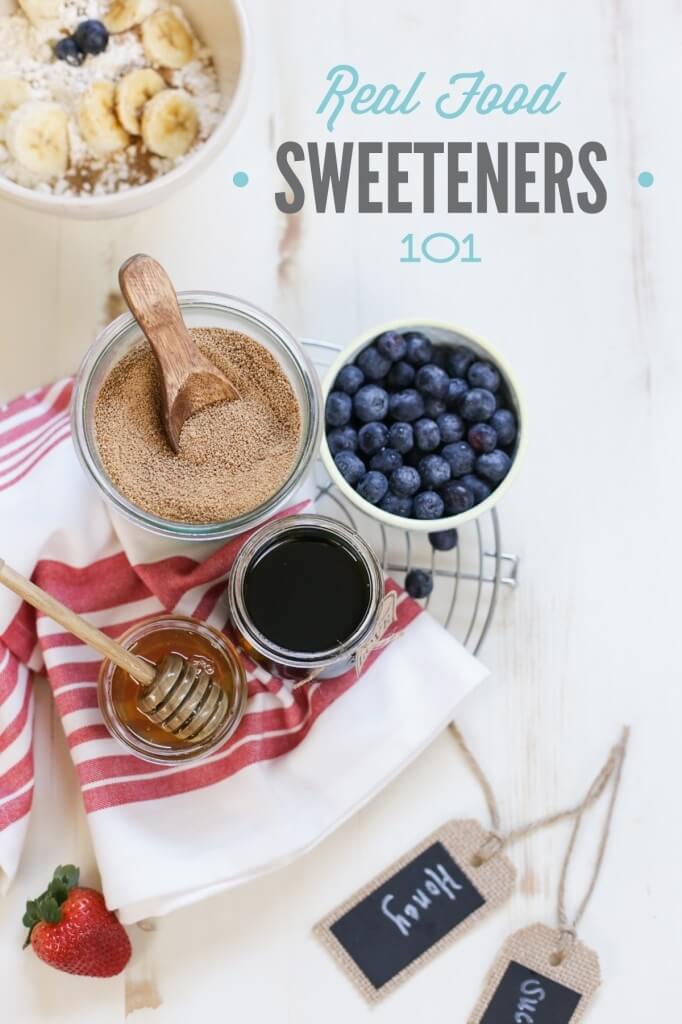 For many people transitioning to a real food lifestyle, giving up processed sugar is one of the biggest hurdles. We can swallow the idea of finding alternatives to pasta, but it's hard for us to imagine living without brownies or ice cream. Fortunately, like most foods we formerly loved, there is an even more delicious option that can be made with real food. If you're looking for ways to sweeten up desserts, oatmeal, or anything else, be sure to check out this list of real food sweeteners!
"A heaping tablespoon of peanut butter carefully dipped into a jar of snow white sugar.
That, my friend, was one of my favorite treats growing up. My dad introduced me to the sweet and gooey sugar-coated peanut butter treat that always stuck to the roof of my mouth…part of the sweet experience. Thank you, Dad! That peanut butter treat was just the start of my love for sugar.
Even as a young child I knew sugar wasn't very healthy (I was listening Mr. Dentist), but my sweet tooth always took over.
My greatest concern after taking the plunge into a real food lifestyle was sugar. I knew a life of no cakes, cookies, or donuts would be the end of me. (I know, a bit dramatic, but my love for sugar was intense.) After months of sugar deprivation and feeling like a total real food failure, I discovered real food is not about avoiding sugar, rather just moving away from the overly processed white crystals I loved as a kid.
Replacing white sugar with better alternatives took a bit of work at first due to the limited information and recipes available (thankfully today there are many more real food resources, including Live Simply!), but once I learned the basics and stocked my pantry with better sweeteners, naturally sweetened real food treats became second nature.
With Valentines Day right around the corner there's no better time to dive into the world of real food sweeteners. With real food sweeteners in your pantry and a bit of practice, I know you'll come to love naturally sweetened treats just as much as I do!
Raw Honey: My preferred sweetener of choice is raw honey. Raw honey retains beneficial properties, so it not only sweetens, but can also help fight colds, allergies,and even acne. In small quantities raw honey can be an expensive purchase. Finding a local bulk supplier from a farm, farmer's market, or natural food store is usually the best option. I use honey to naturally-sweeten baked goods and drizzle over pancakes, waffles, yogurt, and homemade ice cream."