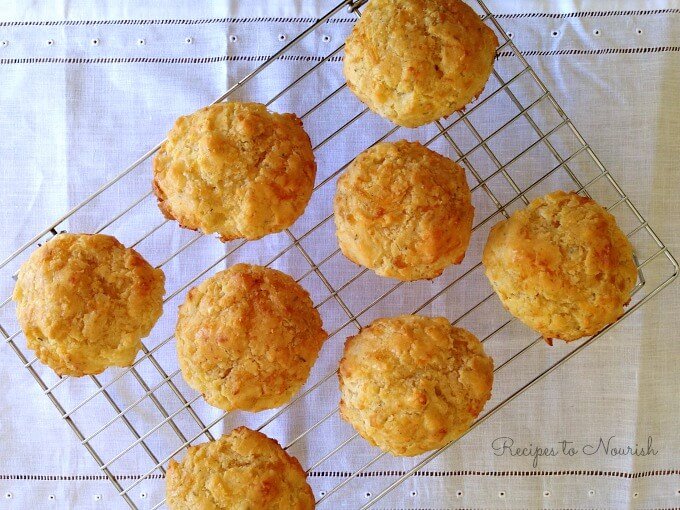 When I was younger, before I began my real food journey, I loved the biscuits served at one of the nation's favorite seafood restaurant chains. I could consume an embarrassing amount of those biscuits in one sitting. I don't care much for dinner rolls or hearty pieces of bread (unless it's a slice of grain free french bread served on the side of butternut squash soup), but I had a weakness for those cheddar bay biscuits.
This recipe, then, is my answer. These gluten free cheddar drop biscuits are a phenomenal substitute and, while I won't be consuming as many in one sitting, they are a great treat on those days I want something a little heartier.
"I love drop biscuits! Really, I do. They're so delicious and incredibly easy to make. I love everything about them – their crispy on the outside + fluffy on the inside texture, their simplicity and that comforting feeling that they create. They are total comfort food.
I make these all the time for my family. They're the perfect addition to a meal when I need to make something fast. I make them every time we have chicken, veggies and gravy. I make them to go with soups and stews. They're super yummy with salads and a good hearty breakfast. We love to have these with eggs and bacon on the weekends too.
Grate up a bunch of yummy cheddar cheese. I use a delicious organic raw mild cheddar, but sharp cheddar would be delicious too.
Grab some garlic and slice it up … or chop it, whatever you feel like doing … it won't matter anyway, you're just going to use it to infuse the butter. Yes, butter. Don't leave this part out. It truly makes these biscuits over the top amazing.
And get ready to get your hands messy. Or … get your kids in the kitchen to help you mix up the dough. Kids always love getting their hands dirty and making the dough.
The dough is so easy to make + only takes minutes. That's the beauty of drop biscuits, there's no kneading to do and your arm won't get tired from having to stir anything. In fact, you don't want to over mix this dough at all. If you over mix biscuit dough, chances are you're going to have a tough biscuit … not what you're going for. You want little pieces of butter to remain intact in the dough. This helps create that delectable goodness that you want in a biscuit.
Put these onto your next weekly meal plan. And if you're like my family, you're going to want to have these often. They're that good."