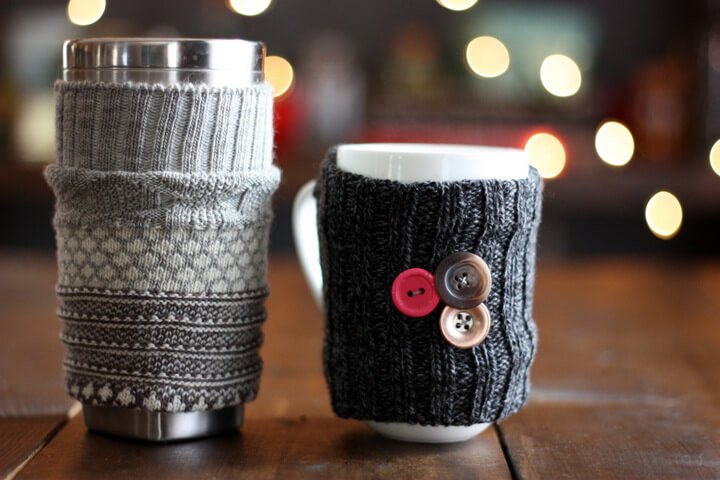 Do you have old socks lying around without partners? Do you want to keep your hot chocolate or coffee warm without burning your hands? A cute little coffee cozy may be your answer to both problems 😉
This simple and fun DIY is a fantastic weekend project that even your kids can be a part of! Below is an amazing tutorial of how to make a coffee cozy from a sock. You will be so impressed with how simple it is to make. With the holidays coming up, this would also make an excellent gift!
"Have you ever wondered what to do with the socks . . .
Whose mates were lost in the time/space vortex known as the dryer? Well, if you're all stocked up on hand puppets, rice heating pads and dusting supplies, I have an idea I think you'll love.
This coffee mug cozy requires no knitting, sewing or, um, skills, so it's perfect mama's that skipped Home Ec. (I'm still kicking myself for that, btw.)
Not only will it keep your coffee, tea, hot cocoa or bone broth warm longer, it will do it while delivering what the potami like to call hand snuggles. If you're not familiar with this phrase, it's the highly technical term for protecting your hands from the hot cup while giving you warm fuzzies. You can see why I'm excited about this, right?
Now, here's the best part.
Not only is it ridiculously easy and inexpensive, it makes a great gift. Pair it with a stainless steel mug (if they don't already have one), bulletproof coffee or organic chai tea.
Or, if you're feeling especially crafty, include a batch of homemade hot cocoa mix or homemade tea bags filled with a personalized blend.
This idea this tutorial from Lilyshop. It's easy to follow, but what I really wanted was a coffee cup version that could accommodate a handle. Since all the tutorials I found required knitting skills – and I don't have sewing skills much less anything else -I played with the method and came up with a travel and basic version that worked well."