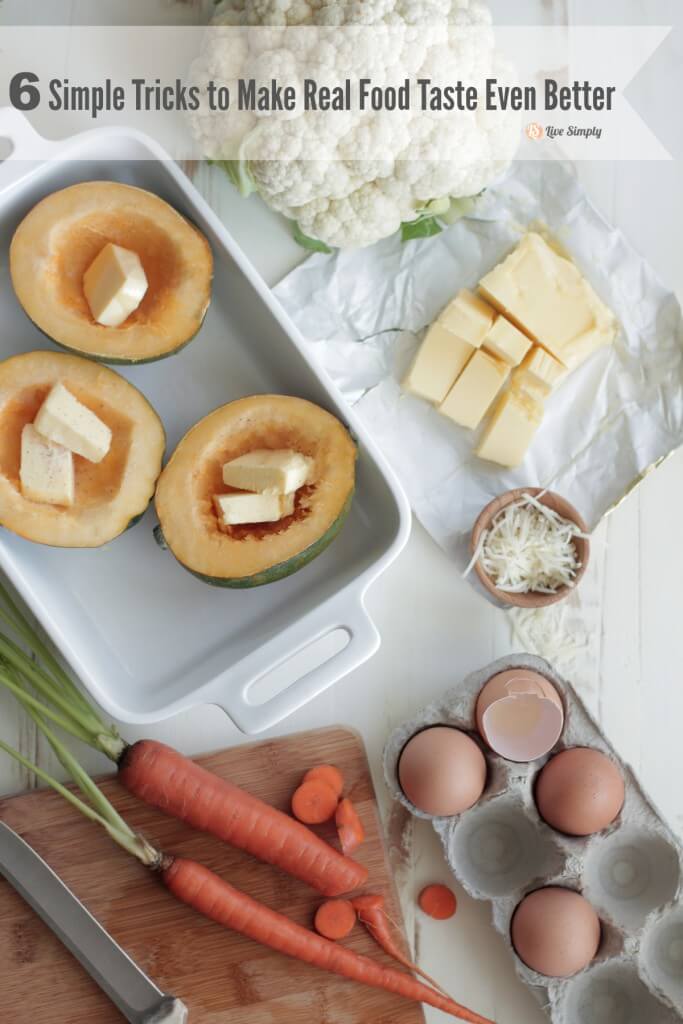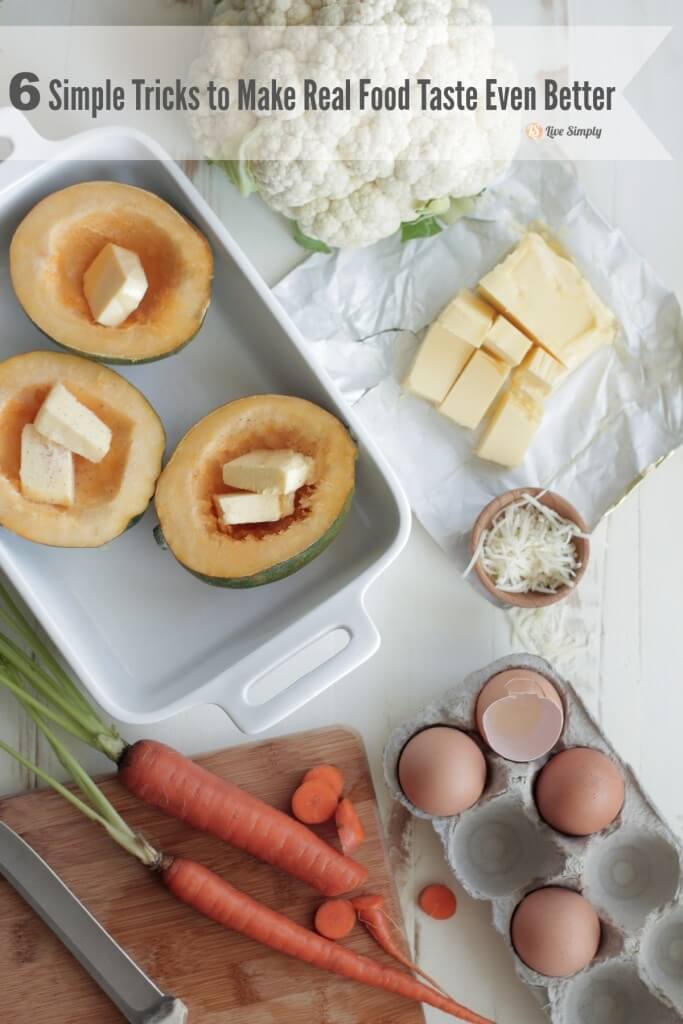 If you've made the change to a real food lifestyle, you've probably come to realize that dishes like healthy sweet and sour chicken and fig and coconut dessert sushi taste way better than their toxic counterparts you were used to eating. The freshness and realness of real food make your meals come to life with flavor. But, like with any consistent behavior, we can sometimes grow weary or bored of what we eat day in and day out, especially if you're not mixing it up much. This post offers six awesome ways to add some spark to your food. If you're sick of your usual breakfast or lunch, learn how to make real food taste better!
"One of the biggest concerns I had before making the switch to real food was the taste dilemma.
I was a processed and fast food junkie and loved the taste that came from a six-count box of warm nuggets, and the sugar that immediately hit my tastebuds with the first bite of a granola bar. I associated real food with less than appealing veggies like lettuce, kale, and beets.
To be honest, our first six months of real food was a flavorless journey. It was hard, but I knew the decision to stick with a real food lifestyle was important for our family's health, so I pressed on. My homemade pizza tasted like a flavorless brick, my veggie dishes were limp and bland, and home-cooked scrambled eggs were not exactly an egg and cheese biscuit from my favorite fast food joint.
Now, please don't misjudge what I'm saying. I'm not saying real food tastes bad and processed food tastes amazing. No, no! What I am saying is that processed food is filled with a special combo of (processed) fats, sugars, and salt to make tastebuds go wild, throw a party, and want to return over and over again. Food companies aren't dumb, they know "food" must possess addictive qualities to create repeat customers! At first, going from an egg biscuit from the drive-thru to home-cooked eggs can be a bit boring.
After six months of limp, boring food, I decided to start experimenting. After all, if this lifestyle of "real" was going to become an actual long-term way of eating, I had to learn how to make our food taste amazing! There were plenty of failed experiments and lots of pb&j dinners as a result, but I didn't give up. Soon, more and more successes started to happen. I noticed that certain techniques ("tricks") helped real food taste amazing and started applying these tricks to many of our meals. Dustin started to rave about my home-cooked recipes, and I stopped craving the fast and processed "food."
Yes, real food tastes amazing by itself once your tastebuds come off the processed food addiction, but there are also tricks to making real food taste even better without any fancy sauces, tools, or a culinary degree. These simple tricks can be applied in your kitchen today to help create the most amazing real food meals your family will love!
Tricks to Make Real Food Taste Even Better:
1. Butter It: I was born in the early 80′s, the age of big hair and a fear of real butter. Thank goodness our society woke up and has embraced butter once again."