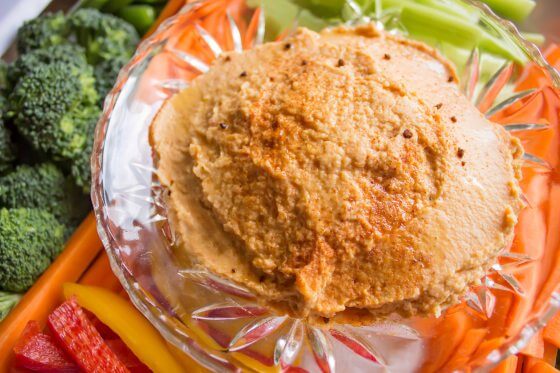 Hummus is a healthy food that has recently gained popularity for its wonderful dipper ability with veggies and chips. Hummus is perfect for snacks and for adding additional flavors to meals or to vegetables. This sun-dried tomato hummus is paired with scrumptious roasted garlic, olive oil, lemon juice, and spices. This is a dish the whole family will devour!
"I love me some hummus! All hummus, any kind, you name it. I usually make the traditional kind (chickpeas, garlic, tahini, lemon), today I thought I'd venture outside the box and make roasted garlic and sundried tomato hummus. I like this version because I find when I make traditional hummus and use raw garlic, it's strong, like stays-with-you-for-days strong. I love garlic, but I don't want to be sweating it out days later. Roasting garlic really mellows it out but still leaves a great flavour. I could eat the entire bulb as is…so good!
Before we get onto the recipe you need to roast your garlic. Preheat your oven to 400F. Cut the top off, drizzle with olive oil, wrap in foil, place on a baking sheet or in a muffin tin and bake for 30-35 minutes. Remove from oven, let them cool, then you can gently squeeze out the cloves. Store leftovers in a jar with some olive oil and keep refrigerated.
Now, let's get onto this super easy hummus recipe…"