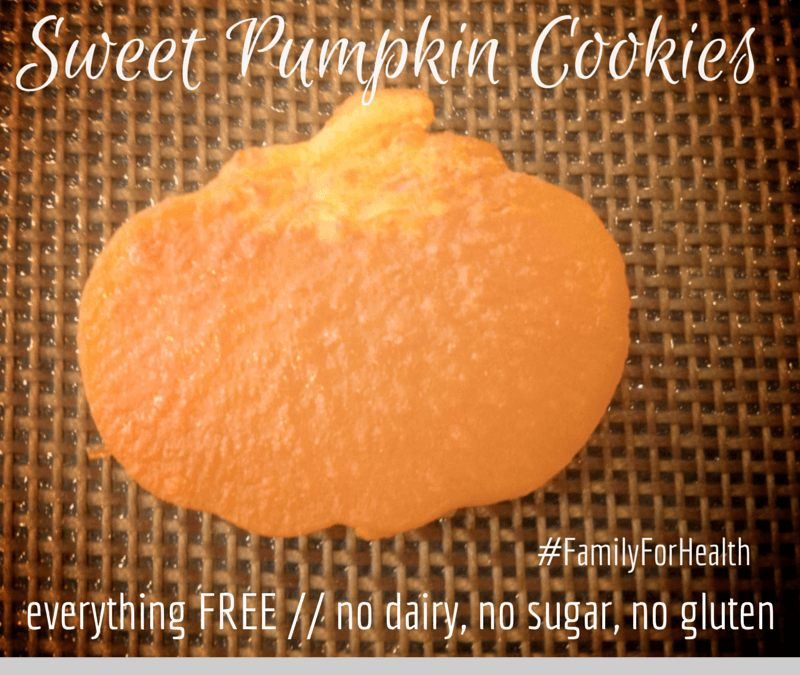 Three of our favorite things (sweet potatoes, pumpkin-love, and cookies) collide in these super simple and sweet pumpkin cookies. Made with only three nutritious ingredients, these cookies are easy to make and are a great way to get your kiddos to delve into some sweet potatoes and coconut oil under the guise of a sweet treat! While your little ones are enjoying themselves, you will be happy knowing that you are giving them great grain free, sugar free, and dairy free fuel for all their Fall fun!
"This is the pumpkin cookie recipe you MUST have this holiday season.
Whether you want this recipe to arm yourself against the sugar-loaded Halloween holiday, or you want to totally impress your family at the Thanksgiving table… You must have this pumpkin recipe!
Not only is the recipe below, but further down, is a video where Family For Health Kids demonstrate the recipe. You won't want to miss this TRICK & TREAT. If you want to skip straight to it, then click here. (Be sure to comment and share this super trick and treat video!)
This Simple, real food, 3-ingredient Sweet Pumpkin cookie recipe is gluten-free, sugar-free, dairy-free and soy-free and has no pumpkin in them at all…TRICK! Yet, it is a TREAT because once you make and share this recipe you will have everyone praising your delicious genius for making a healthy cookie treat!
So take note…all you cleaver mommies, and those of you who are already totally over the pumpkin flavored everything by the first day of Autumn…because this recipe is for you!
Halloween, or any other holiday, doesn't have to be all about the sugar. You can control the amount of sugar that comes into your home and you can inspire what festive holiday memories are made with your family.
This is a simple recipe that I created for your family to help get you into the spirit of Halloween. A recipe without the sugar overload that comes from the artificially flavored and artificially colored cookies, candies and treats that your kids will be getting in their Halloween baskets.
When you eat these nutrient dense, vitamin rich "Sweet Pumpkin Cookies" your tummies will be fuller longer so that you and your kids are not tempted to eat the whole basket of Halloween candy, IF ANY.
Read this article about our last Halloween overdose experience! Trust me…you don't want to experience what I did last year!
The bonus is that this is a simple recipe your kids can help you make. You can bond with them and make life-long memories while you bake together. Wasn't baking cookies with your mom some of your best memories? But, then you were always left upset because she had to restrict the amount of cookies you ate. Good thing you now know that your best memories of baking cookies with your mom was all about the memories of spending time with her baking and not about the sugar!
This Trick and Treat cookie recipe is ONE-OF-A-KIND and will create life-long lasting memories for you and your children!
Can't you hear it already, "My mom Tricked me as we baked healthy sweet potato cookies she called "Sweet Pumpkin Cookies" for Halloween."
What holiday memories do you want to create?
Those centered around sugar that will create blood sugar spiked hyperactive highs that only result in disastrous crashing lows that leave you craving more? Or, would you rather have the REAL life-long memories that keep your body and mind healthy and lead your grown kids to want to "pay it forward in health" and treat their future children to REAL HEALTHY TREATS just like you made with them?
You probably know the answer!"